Parents who can deduct dependent children on their personal income taxes gain a tax savings by using the deduction. That deduction is not necessarily taken away when the child reaches the age of 18. In order to qualify to claim the dependent on your tax return, your situation must meet the criteria set forth by the Uniform Tax Code and governed by the Internal Revenue Service. If you claim a dependent on your tax return but do not meet the specified criteria for doing so, the IRS may assess penalties and interest on taxes due.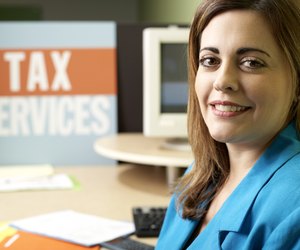 credit: Creatas/Creatas/Getty Images
Step
Take the age test. Dependents over the age of 18 must be full-time students under the age of 24 in order for you to claim them as a dependent, unless the dependent is permanently and totally disabled. In the case of a disabled dependent, no age limit exists. The dependent claimed must also be younger than you and, if filing a joint return, your spouse.
Step
Ensure that the adult dependent will not claim himself on his personal tax return. An individual can be claimed on only one tax return, so if the dependent is claiming himself, you cannot claim him too.
Step
Enter the dependent's information in the Exemptions section of Form 1040. The information required includes the dependent's first and last name, Social Security number, and relationship to the tax filer.
Step
Include the over-18 dependent in the total number of dependents claimed in the Exemptions section of the Form 1040.
Step
Complete the remainder of your tax return and file the return as instructed.