In the U.S., if you own a car, you pay taxes not only when you buy a vehicle, but every one to two years during ownership. This tax is known as a "registration," with the money used by local governments. Although the amounts and requirements vary from one county to the next, one thing is common across all jurisdictions: it's easier than ever to pay your car taxes. Many local governments now allow residents to pay their taxes and associated fees online through a web portal. But in order to do that, you'll need to make sure you allow plenty of time, since your new tags will take at least a few days to arrive in the mail.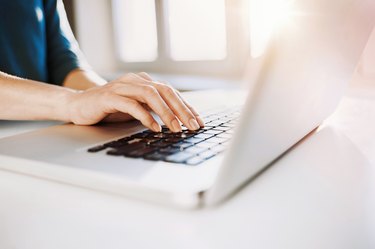 Get Your Paperwork in Order
If you purchased a new car and need to register it and pay taxes, the dealership that sold it to you should handle it. If you made the purchase from a private seller, though, you'll need to check to see if you can register and pay online. Many county clerks require you to either mail in your information or visit an office, providing a bill of sale that proves you purchased the vehicle.
The internet hasn't made things completely paperless. Most government agencies still mail a paper renewal notice to residents, usually at least 30 days before the current registration expires. Whether you're registering a vehicle for the first time or renewing, though, you'll need to check the emissions testing laws in your area. Even if testing is required in your state, it may not apply to your county. Have this information in hand before registering your vehicle and paying your registration online.
Register Your Vehicle
You can search for vehicle registration in your state or merely type dmv.org into your address bar. Click on "Registration and Title," then "Renew Registration" to get a map to choose your state. The site then provides details on how to register your car in your own area. If you live in Colorado, for instance, you'll find that you must renew your car every 12 months and that your emissions requirements should be stated on your renewal notice.
Your state page will also include a link to your state's vehicle registration page. Here you'll likely be given instructions on how to proceed, and you'll need to provide your license plate number. In some states, you don't need your renewal notice, since the online system is set up to access your vehicle registration records electronically. Once in, you'll walk through the process of registering based on your local laws, then enter payment information. Once completed, you'll get a receipt that you can download and print in case you don't receive your new tags in the mail before your old tags expire.