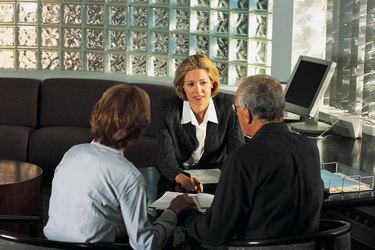 The face value is the numerical worth of the life insurance policy. Although that amount is intended to be the paid when the insured dies, the final payout of a policy can be increased or decreased due to policy activity. Also certain policies can become taxable if the face value amount surpasses Internal Revenue Service (IRS) limits.
Face Value
The face value is the original amount that the policy owner agreed to pay premiums for at the time of application. Face value is also referred to as the death benefit.
Adjustable Face Value
Permanent life policies such as universal life can adjust the face value amount without changing the policy. Adjustable life insurance policies have the same flexibility as the face value is determined by the amount the policy owner is willing to pay for premiums.
Effects of Cash Value
The cash value accounts in permanent life policies such as whole life and universal life can increase or decrease the death benefit. Funds accumulated in the cash value can create a more lucrative final payment while outstanding policy loans will lower the benefit amount.
Taxation
Group life policies with face values in excess of $50,000 will become taxable compensation. Also spousal and dependent group coverage worth more than $2,000 will also be taxed as income.
Estate Tax
Insurance benefits can be taxed as part of the policy owner's estate if his property is valued over the federal estate exemption limit. According to the IRS, an estate worth $3.5 million or more in 2009 may have a 45 percent tax levied on it.
Avoiding Estate Inclusion
To avoid the face value being taxed with the estate, the policy ownership must be assigned to someone outside of the estate, such as an adult child. Also the beneficiary cannot be their estate. The transference must happen three years before their death.