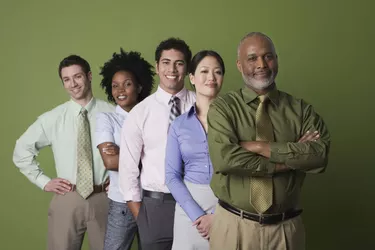 Whether you want to lose weight, reduce your personal debt, change jobs, buy a house or earn a degree, if you don't plan to succeed you're planning to fail. Designing a personal strategic plan around your personal vision, mission and values can help you achieve your goals and meet monthly, quarterly and yearly objectives.
Considering Maslow's Hierarchy of Needs
Not unlike businesses, personal strategic plans are built around a hierarchy of needs. Abraham Maslow's hierarchy of needs is based on five key elements: self-actualization, self-esteem, belonging-love, safety and psychological needs. Your vision, mission and values should be created in the same manner--ultimately, around what you need and value the most in your life.
Creating Vision and Mission Statements
The foundation of any personal strategic plan is a vision, mission, values and goals. The vision is where you would like to be in as few as three months or as many as 15 years or more. You can make your personal vision as grandiose or small as you like. However, a vision is just a dream unless it's achievable.
Don't worry about whether you have all the pieces in place to reach your goals. Base your vision on its obtainability if given enough time and resources. Your personal mission is what you would like to become based upon what you value. A personal vision is what guides you and gives you a sense of direction.
Don't have a mission? Don't fret; your plan will work just fine without one.
Assessing Personal Values
What you value drives your mission and vision. Values are what are important to you. Is it financial security? Education? Owning your own home?
You can have as few or as many values as you desire, but keep them short and change them as your needs change. Also remember, values don't have to be centered on financial stability. If you value honesty, compassion, truthfulness, love or tranquility, these can make useful value statements as well. Values will not only aid you in setting a vision, but also in setting your personal strategic goals.
Setting Personal Strategic Goals
Personal strategic goals should always be attainable and measurable. A personal strategic plan is no good without action behind it. Goals can be big and audacious goals or short-term. Clearly defined personal strategic goals are easier to put a strategic plan behind, which increases the chances of reaching your goal.
If you value car ownership, then owning your own vehicle is a desirable goal. What do you need to own your vehicle? Do you currently have all the tools or resources to get you there? If not, determine what you need and set daily steps toward attainment.
Scan your environment for threats that could prevent you from achieving your personal strategic goals. Threats, whether internal or external, need to be constantly monitored for and addressed. If ignored, your goals are just a wish and a hope that may never be realized.
Keep in mind that a personal strategic plan is a living document. Stay focused, evaluate it constantly and make changes when necessary.