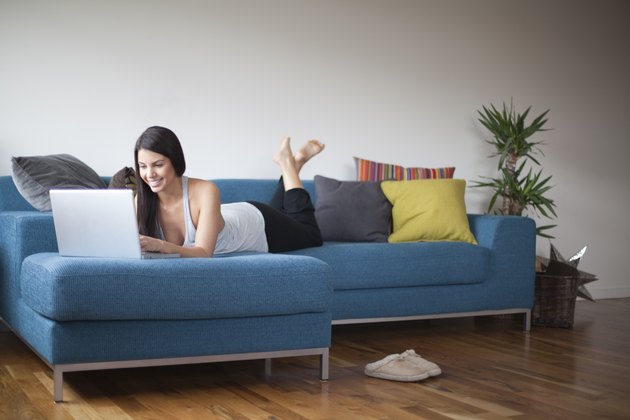 The major online financial news websites all offer portfolio tracking tools. Each offers different features to help you track your individual holdings and overall portfolio performance. These portfolios will allow you to combine the holdings from different brokerage or retirement accounts and evaluate the results of your entire portfolio. The news services provide their portfolio products for free with registration. Morningstar and Gainskeeper provide advanced services for a fee.
Morningstar
Morningstar offers a portfolio tracking tool with their free membership level. The portfolio comes with a wide range of tools, including four customizable ways to view a portfolio, a portfolio allocator and stock and mutual fund screeners. Unique to Morningstar is the automatic recognition and crediting of dividends and the ability to easily include bonds in a portfolio. This portfolio does not have the latest news on the portfolio main page, and individual cash transactions are not combined into a single cash balance. Proprietary stock and mutual fund analysis is available from Morningstar if an investor signs up for their premium services. These start from $179 per year.
Google Finance
Google Finance allows you to set up an unlimited number of portfolios that are displayed in Google's no-frills style. The portfolio has tabs for an overview, stock fundamentals, performance and a list of transactions. Google's porfolio also allows for a cash balance and retains performance information on sold positions. Links to in-depth news, data and a stock screener are easy to find and use. The Google portfolio is limited to listed stocks and ETFs, but does allow short selling.
MarketWatch
MarketWatch.com is part of the same online network as the Wall Street Journal, Barron's and SmartMoney. The MarketWatch free portfolio has excellent graphically represented data on its portfolio pages. The graphic data are especially useful for investors to get a quick snapshot of how their stocks are doing throughout the trading day. The portfolio page also shows the headline for the latest news story on each stock listed. This portfolio is more difficult to learn to use and does not have an option to show cash balances or closed positions.
Gainskeeper
Gainskeeper is a unique portfolio tracking service that provides the necessary data to accurately file income taxes for investing profits and losses. The portfolio allows investors to combine the results of all their brokerage accounts and accurately track capital gains and losses. This service includes analysis to minimize the tax consequences of different trades. Gainskeeper is for the investor who wants a portfolio tracker with lots of accounting tools. This portfolio tracker is not free, with subscriptions starting at $79 per year.