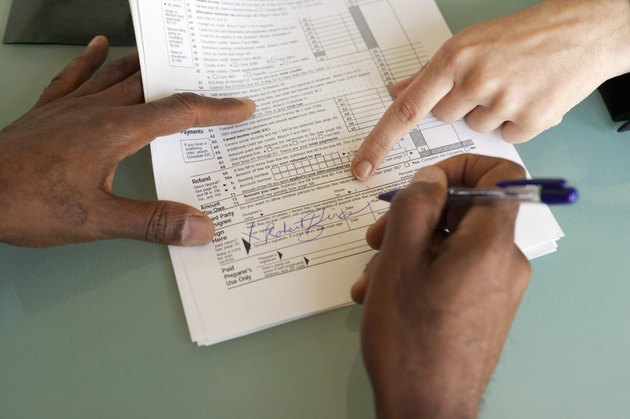 Many people look forward every year to receiving a sizable tax refund. While they often view it as a bonus, it is actually their own money they are receiving. Tax refunds result when excess taxes are collected during the year, most often from payroll taxes. For people who don't want to wait to receive a tax refund, there is a means of taking a loan against the amount of the refund, called a tax anticipation loan.
Tax Anticipation Loan
A tax anticipation loan is essentially a guaranteed loan the taxpayer takes against the collateral of his tax refund. To obtain a tax anticipation loan, it is necessary to file a tax return. Commercial tax return services offer these loans to their customers. Conventional tax anticipation loans are issued as a check or as a direct deposit to the taxpayer's bank account, with the tax preparation service taking a percentage of the return as its fee in addition to the charge it imposes for preparing the returns for the taxpayer. The charge that the tax preparation service imposes depends on the size of the tax refund. Larger refunds are charged a larger fee. For taxpayers who don't have a bank account or who don't want the loan deposited in their bank accounts, the loans can be issued in the form of a prepaid debit card with a MasterCard or Visa logo.For taxpayers who want to receive a tax anticipation loan even faster, and who qualify for the stricter loan guidelines, instant tax anticipation loans are available. These loans are generated during the tax preparation session and are available to the taxpayer in a matter of hours. The fees for these loans are higher than for conventional tax anticipation loans.
Alternatives
For low-wage taxpayers, the Internal Revenue Service (IRS) offers free electronic filing through a number of outlets. The income limits change each year. In 2008 the income limit was $56,000 for adjusted gross income. In addition, taxpayers who file their returns electronically and opt for direct deposit of their refunds can receive their refunds in their bank accounts in as few as 10 days at no extra charge.TurboTax launched a service in 2009 that offered taxpayers a choice of purchasing gift cards with some or all of their refund money. Different merchants issued the cards without processing fees and no expiration dates, though there was a shipping charge. These merchants added bonuses to the value of a card; for instance, a taxpayer who devoted $90 to a Starbucks card would actually receive a Starbucks card worth $100.The Center for Responsible Lending issued a report in 2004 which outlined a plan for free tax preparation services to offer lower-priced refund anticipation loans. These programs would impose caps on the amount of interest that can be charged on a refund anticipation loan to 36 percent of the refund. The report also called for programs that would allow unbanked taxpayers the opportunity to open checking accounts with cooperating banks, including "second chance" accounts with financial counseling for taxpayers who would otherwise not qualify for a checking account.