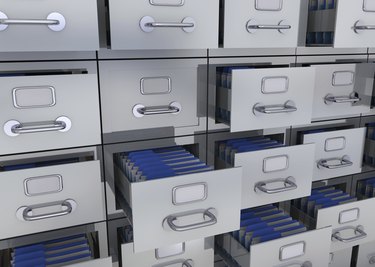 Most taxpayers know the general rule of thumb is to keep copies of your tax returns for at least six years after the filing deadline. If you lose your files in a catastrophe, however, or need a return from eight or 10 years ago, you can get copies from the Internal Revenue Service. Some states keep a tax history as well; contact the department of revenue or taxation for your state for details.
Request a Tax Transcript Online or by Phone
The IRS website allows you to request tax transcripts for the current tax year and the past three tax years. A tax return transcript includes information from your originally filed tax return. If you or the IRS amended your return, that information is found on the tax account transcript. You can also request tax transcripts by calling 800-908-9946 and following the prompts. Transcripts are free and arrive within five to 10 business days.
Request a Tax Transcript by Mail
If you need an older tax transcript, you must fill out and mail Form 4506T-EZ, Short Form Request for Individual Tax Return Transcript. Transcripts are mailed to your current address. To have a transcript sent to a different address, file Form 4506-T, Request for Transcript of Tax Return. Allow 30 days for processing of a mailed request.
Request a Tax Return Copy
The IRS makes copies of tax returns available for the current tax year and the previous six tax years. To request a copy of your return, complete Form 4506, Request for Copy of Tax Return. You must pay a fee of $57 for each year. It may take up to 60 days to receive your copy.