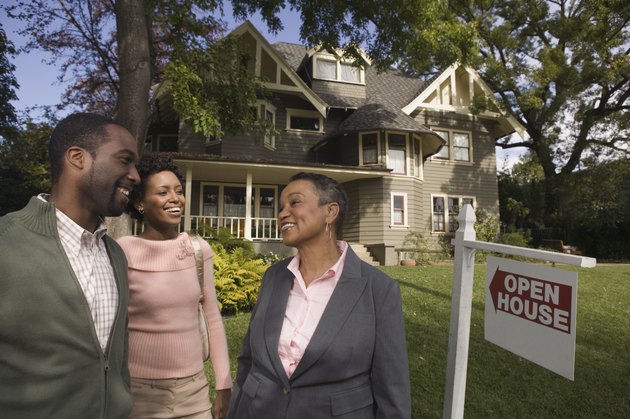 The federal government may offer grants to help you buy or improve your first home. These programs are provided by the Department of Housing and Urban Development and administered through state and municipal housing agencies. HUD provides funds to local governments to grant or finance down payments and closing costs. Eligibility for federal programs is based on income, location and even your profession.
Finding Agencies That Help First-Time Buyers
A local housing agency can provide details on available HUD-based grants and financing programs in your area. To find the agency nearest you, search HUD's list of approved participants by state, then by city or ZIP code. The state link will provide links to homebuying and homeownership resources at the local level. For example, California residents are directed to a "HUD in California" webpage and can select "Homeownership Assistance" under the "Local Resources" section. The California Housing Finance Agency is listed, as well as a list of city and county housing agencies throughout the state.
Grants Cover a Small Portion of Costs
Most grants target first-time buyers, who haven't owned a home in the previous three years. Grants don't need to be repaid and may help with a portion of your down payment, closing costs or both, depending on the program offered by your local housing agency. Grants usually don't cover more than 10 percent of a home's price, according to Money-Zine.com. The amount and time it takes to obtain a grant depends on the funds allocated to the state and your jurisdiction and on the demand for the program. As a result, you must qualify for a first mortgage backed by the Federal Housing Administration or a conventional loan program.
Secondary Financing Requires Repayment
Down payment and closing-cost assistance from the federal government may also be financed. Housing agencies that make down payments or other first-time buyer loans must be HUD-approved nonprofits or affiliated with the government. Secondary financing must be repaid, but may not require monthly payments. If a loan doesn't have to be repaid monthly, you must pay off the balance when you sell, refinance, pay off the home in full or otherwise stop using the property as your primary residence. You must also finance a first mortgage, such as an FHA or conventional loan, to receive secondary financing.
Boosting Buying in Revitalization Areas
The federal government may provide programs for specific areas that are undergoing revitalization. These targeted areas have blight, high rates of foreclosure, high levels of low-income residents and low levels of homeownership. To get homebuyers to invest in revitalization areas, HUD may offer foreclosed homes at reduced prices. Availability of HUD-owned homes varies by location. Your local housing agency may offer grants and programs specifically for revitalization areas.
Good Neighbor Next Door
Teachers, firefighters, law enforcement officers and emergency technicians may participate in HUD's Good Neighbor Next Door programs to revitalize certain HUD-designated areas. Although participants don't need to be first-time buyers, they can't own a home at the time of purchasing a GNND property. HUD offers a 50 percent discount on its foreclosed homes. You must agree to take on a second mortgage for the discounted value of the home. However, the silent second loan requires no monthly payments or interest and doesn't have to be repaid if you live in the home for three years.
Homebuyer Education and Income Requirements
All federally based first-time buyer programs require you to complete a homebuyer education course. The financial class teaches you about qualifying for a first mortgage, the buying process and homeownership costs. The housing agency you use to obtain a grant or secondary financing program likely offers a HUD-approved homebuyer education class. Your local housing agency will also provide any income limits you must meet. Limits vary by area median income levels and household size. You must typically be considered a low- or moderate-income earner to qualify for homebuyer assistance programs.