Though many credit card holders take advantage of the speed and ease of online payments, there still are people who prefer the old ways of paying bills. Whether it's distrust of online bill pay systems or the lack of interest in learning a new way of doing things, Americans still frequently mail their credit card payments. That's provided the mailing address is available. Finding this information can prove to be a challenge if you don't know exactly where to look.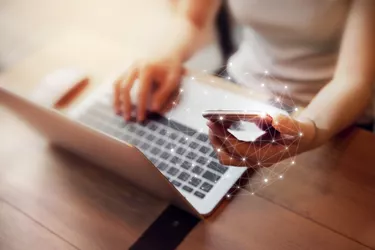 Where to Look for a Credit Card Mailing Address on a Statement
If you're mailing in payments, then you most likely have a bill. Although many credit card companies are pushing hard for their customers to go paperless, some still prefer to receive their bills by mail. If you have a hard copy, check the payment stub. That's the portion of the statement you mail with your payment. The mailing address should be on that stub. If you receive electronic statements, it's usually an exact duplicate of a paper statement, so check on the stub of the online statement for the mailing address.
Locating the Mailing Address on a Website
Let's say you've misplaced your statement and you don't receive a statement online. You can go to the credit card company's website and search for the mailing address there. For example, to find the mailing address on the Chase website, click the drop-down menu (three lines in the top-left corner on the home page) and select "Contact Us." On the Customer Service page, select Credit Cards. Once on the credit card page, scroll down and click "Contact Us" again, then scroll down to the area marked "Mailing address." Capital One makes it a bit easier. Scroll to the bottom of the home page and click "Contact Us." Then on the next page, choose "Personal Credit Cards," and scroll to the bottom of the page to the line that reads "Payments."
Other Options for Locating Payment Information
On your paper statement, online statement and even the website, the phone number for customer service typically is available. Call the provided number and follow the prompts. In some cases, the information you need is provided via a recording; just listen for the "For payment information press..." prompt and do as instructed. If this is not an option, choose to speak to a customer service representative and ask for the mailing address. The customer service number is also printed on the back of your credit card.