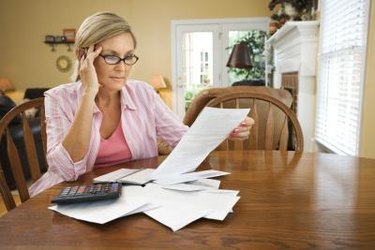 Creating a budget and sticking to it is an important way to control the stress in your busy life. Seventy-one percent of Americans are living paycheck to paycheck according to the 2008 "Getting Paid In America" survey. A household budget is a vital part in running your household.
Definition
A budget is an itemized estimation of the cash flow and expenditures in a period.
Planning
Starting at the beginning of each month, write down all your expected living expenses and bills. Include a certain amount to save each month. See how your income matches the outgoing funds.
Shopping
Shop the sales in your local grocery store. Coupons are an excellent way to save money on items you need, not want.
Function
If you cannot be trusted to spend only a certain amount on groceries or clothing, use an envelope system. Place the allotted money in the envelope and when it is gone, do not replenish the fund until the next month.
Goals
Set goals, whether they are long or short term. Saving for a new lawn mower is just as important as saving for a new car. Goals will help you see the amount you need to reach.
Significance
Saving is the most important part of a household budget. Save at least 10 percent of your income and do it religiously. The money will be in the emergency fund when you need it for a crisis, and you will not have to resort to credit card use.