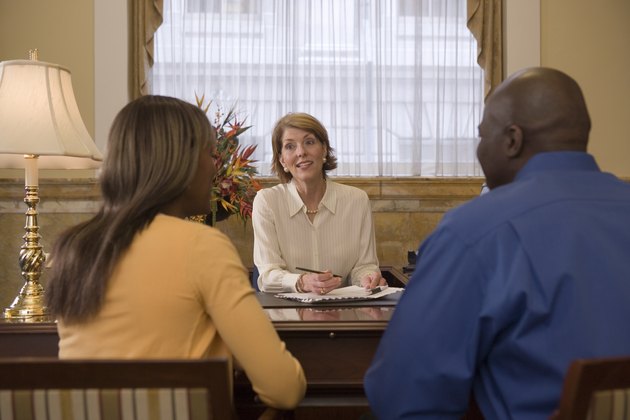 Loan preapproval begins with finding a good lender and culminates with a letter stating your buying power. It's a must-have in many markets. Real estate agents request it because they know many sellers won't take you seriously without having a mortgage lender sign off on your credit and finances. The scope and accuracy of a preapproval varies based on the lender and the information you provide. A preapproval is usually considered more reliable than the less involved prequalification letter, which requires fewer details upfront.
Doubling Your Effort With Two Lenders
A mortgage broker or bank loan officer can initiate the preapproval process with you in person, over the phone or online. Online mortgage lenders provide relatively quick results with minimal time investment on your part. You can answer the lender's questionnaire using your computer and upload supporting documents. However, if you prefer to speak with and interview a single point of contact, work with a loan officer at a reputable bank or mortgage brokerage. To get a second opinion of your loan qualifications, get preapproved with at least two lenders.
Factors Analyzed for Preapproval
Guidelines, loan terms and conditions for loan preapproval vary by lender and your individual financial circumstances. However, there are a few generally accepted rules you must meet to gain preapproval. To determine whether you qualify for preapproval, the lender analyzes your:
debt load as represented by a debt-to-income ratio
minimum credit score and history
employment history
assets
These aspects of your finances work hand-in-hand. While you may not excel on every front, having a healthy debt load and a 20 percent down payment, for example, can get you preapproved despite less-than-excellent credit, with some lenders.
General Guidelines To Meet
Your DTI ratio for housing costs, known as a front-end ratio, should range between 28 percent and 31 percent. Total monthly obligations, including housing, are expressed as a back-end ratio. The back-end ratio is usually no more than 36 percent, but may be as high as 43 percent. Lenders typically require FICO scores of at least 620 or 640. However, you may be able to gain preapproval despite low credit with a higher down payment. That's because the amount you contribute from your own funds to buy a home offsets the lender's risk. Down payments range from 3 percent to more than 25 percent, depending on the loan type and property type.
Documentation Needed for Preapproval
Provide your lender with recent income and asset information. Exact paperwork needed depends on your circumstances. However, you usually must provide:
one month of paystubs
past two years of tax returns and W-2s
two months of bank statements and three months of investment account statements
recent profit and loss statements and business licenses, if self-employed
Most lenders must know precisely where your down payment comes from to ensure that it's not borrowed. They check for large or unusual deposits and may require written explanations to document the source of your funds.
Preventing Preapproval Problems
Cooperation with your lender and honesty are essential to a solid loan preapproval. A preapproval isnt a commitment to lend and it's subject to subsequent verifications and documentation, such as a home appraisal. Should the home or any aspects of your finances fall short of the lender's requirements, you may no longer qualify for a loan. Be completely up front with your lender and avoid making the following mistakes:
not fully disclosing additional income, employment, funds or tax write-offs
failing to disclose debts not on your credit report, such as alimony or child support
overspending, financing consumer purchases or taking on new credit lines
borrowing money from friends, family or other lenders
misrepresenting any aspect of your financial situation