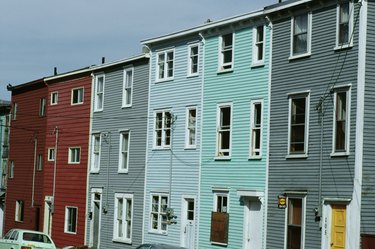 Every year the federal government sets aside money for families in need of a low-income housing loan. The government does not generally advertise these programs; thus, the key is knowing where to find the information. The loan application process is straightforward, involving just a few steps.
Step 1
Call the Farmers Home Administration at the U.S. Department of Agriculture to see if you qualify for the federal low-income housing loan. You will have to meet the low-income requirements to be able to qualify. Call 202-447-7967 and ask for the office of the administrator that deals with the federal low-income housing loans.
Step 2
Provide your personal information to the representative. If you meet the income requirements, the administrator's office will then take down the rest of your information and mail you the application.
Step 3
Complete the application carefully. Proofread and make any corrections. If you need assistance, you can call the number above for any questions about the federal low-income housing loans.
Step 4
Return the application to Attention: Administrator, Farmers Home Administration; Department of Agriculture; Washington, DC 20250. Once your application has been processed, the agriculture department will contact you with the results and the information on what to do next.
Tip
The federal government allots different amounts each year for federal low-income housing loans. Each year, the contact information and amount of the loan change; thus, be sure to get the updated return address if needed and find out the exact amount for which you qualify. The key is to apply in the first quarter because the government releases these benefits around the first of each year. If you can apply between January and March, then you will increase your chances of obtaining funds.