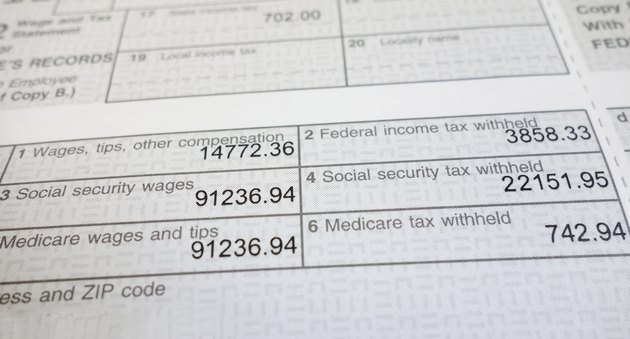 A W-2 form is a statement sent from an employer to its workers at the end of each tax year. It includes information on wages earned and taxes withheld from the employee's paychecks. The employee, or the employee's tax preparer, then uses this information to prepare tax returns.
W-2 Information
Income information listed on the W-2 includes total wages and tips earned throughout the year, Social Security wages and Medicare wage. It also includes amounts the employer withheld from paychecks during the year for federal taxes, Social Security tax and Medicare. Some workers have amounts noted for pretax retirement, health care and dependent care contributions as well. Details on state earnings and deductions, along with employer reporting details, are also on an employee's W-2.
W-2 Requirements
Companies are required to send W-2 statements to all employees of record by Jan. 31 after the tax year. Employees need their statements in a timely manner to meet the April 15 federal tax reporting deadline. If you don't receive a W-2 within two weeks of the deadline, contact your employer. There are a few exceptions, such as when a worker received less than $600 in noncash payments or when the company isn't obligated to withhold taxes from earnings. Independent contractors, for instance, receive a 1099 form reporting miscellaneous income.
Filing Returns with W-2 Forms
Verify the personal information and Social Security number and report any error to your employer. Electronic software programs often allow workers to import W-2 forms from more than one employer. If importing isn't an option, input the data from the boxes on the W-2 into the corresponding boxes on the 1040 form. Attach your W-2 to the front of your tax return if you are filing by mail.
W-2 Variations
The employer sends copy A of the W-2 to the Social Security Ad- ministration. Copy 1 goes to a local or state taxing authority, when required. The employee gets copies B, C and 2. Submit copy B with your federal return and copy 2 with your state or local return. Retain copy C for your records. When a corrected statement is required, the company files Form W-2c. Form W-2G is used specifically to report a person's gambling winnings.