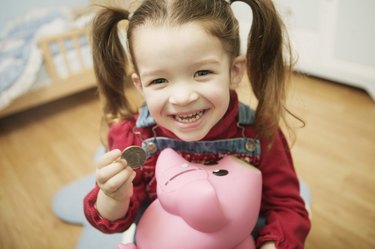 Opening a bank account for your kids helps them practice saving and managing money and teaches them financial responsibility. Kid-centric bank accounts also teach them how to write checks, make deposits, balance an account and understand concepts like earning interest and setting financial goals. To open a checking account, you need the child's Social Security number as well as your own.
Legal Considerations
Because writing a check is essentially a contract, and minors cannot legally enter into contracts, banks traditionally have not offered minor checking accounts to avoid potential legal issues. When it comes to minor checking accounts, it is up to the states, and sometimes each individual bank, to set the rules. For example, federal credit union law permits credit unions to offer minor accounts, but credit unions commonly still require joint accounts with a parent or guardian. Ohio Revised Code and Texas Finance Code allow minors to open checking accounts but the minor is treated like an adult for contract purposes. Banks that do offer minor checking often require parents to be a co-owner of the account and to assume all legal responsibility for the account.
Union Bank Teen Access
The Union Bank Teen Access checking account is for minors ages 13 to 17 but they must have a parent or guardian as a co-owner on the account. The adult co-owner is legally responsible for the account. Opening an account requires a minimum deposit of $100, and there are no monthly fees. Features include online and mobile banking, reduced overdraft fees and a debit or ATM card.
Chase High School Checking
Open to minors 13 to 17 years old, the Chase High School Checking account must have a parent or guardian co-owner. The account comes with a Chase debit card and access to 18,000 ATMs. Additionally, account holders can take advantage of mobile and online banking and bill pay. The monthly fee for the account is $6 unless the co-owner parent or guardian has a linked personal Chase checking account, the minor uses direct deposit to fund the account or he maintains a monthly balance of over $5,000.
Bank of America CampusEdge Checking
Bank of America offers CampusEdge Checking for students that does not require a minimum balance or monthly maintenance fees. Minors must open the account with an adult. The account provides a free check card and refunds on the first two overdraft fees, as well as mobile and online banking and free transfers from a parent's Bank of America checking or savings account.
Wells Fargo Teen Checking
The Wells Fargo Teen Checking account is open to minors ages 13 to 17 and requires an adult co-owner. Minors receive a Wells Fargo debit card to use in-store, online and over the phone, as well as to make withdrawals at ATMs. Parents can set daily limits on purchases and withdrawals. Wells Fargo does not charge a monthly service fee as long as the account holder chooses online-only statements.