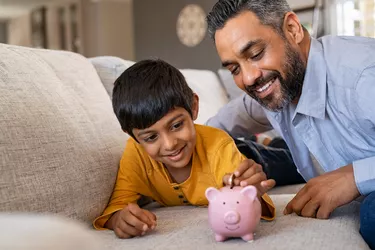 A Chase account for minors or one from a different bank can help your children understand the value of money. Over time, they'll learn how to create a budget, track their expenses and make sound financial decisions. Ideally, choose a checking account with an above-average interest rate and no minimum balance requirements.
When you open a checking account for your child, you have joint ownership. Therefore, you can monitor his account activity and help him manage the funds properly. With that being said, consider the following checking accounts for kids.
Capital One Money is a joint checking account for children over eight years old. If you're not a customer of the bank, you can still open an account for your child. This service has no monthly fees and no minimum balance requirements. On top of that, your child will earn an annual percentage yield (APY) of 0.10 percent on all balances.
Opening a Money account is free, but you'll need to pay ​$25​ to have the debit card delivered at home. Capital One also charges ​$5​ for each bank statement you request. Account-holders under 18 years old can make transactions of up to ​$500​ per day, but this limit can be lowered upon request. The bank prohibits children and teens from using the funds to buy alcohol, tobacco products and prescription drugs. Also, your child cannot use his debit card in bars and clubs.
The Money checking account includes a mobile app with parental controls. The app allows you to set spending limits, track your child's expenses and lock or unlock his debit card. You can also set a weekly or monthly allowance and transfer money to your kids as needed. Moreover, your child can split his balance into two accounts: one for savings and another one for expenses. Encourage him to use this feature to put money aside and watch his savings grow.
Chase Debit Card for Kids
Another option is Chase First Banking, a debit card for children. The Chase bank age requirement for this card spans ages six to 17. Like Capital One Money, it has no monthly fees and comes with a mobile app that allows parents to set limits on where and how much their kids can spend. As a primary account holder, you can also set up alerts and track your child's savings goals. Parents can also make one-time and recurring payments through the app.
The Chase debit card for kids is only available to customers with a checking account, such as Chase Secure Checking, Chase Premier Checking or Chase Better Banking. Simply put, you cannot open a Chase First Banking account without using one of these services. After registration, both you and your child can use the debit card at more than 16,000 ATMs for free. Non-Chase ATM withdrawals cost ​$5​.
The bank prohibits children from withdrawing money from a banker at a branch or merchants, purchasing checks or using the funds for gambling. Chase doesn't have as many spending restrictions as Capital One, but it offers fewer perks. For example, your child won't earn interest on his savings.
Speaking of interest rates, Alliant offers an APY of 0.25 percent on all balances. To qualify, primary account holders are required to make at least one electronic deposit per month and opt for electronic statements. The Alliant Teen Checking Account has no monthly services fee and no minimum balance requirements. Plus, it includes two Visa debit cards for you and your child.
Alliant is a credit union, not a bank. Therefore, you need to become a member to enjoy these perks. Joining Alliant is free – just make sure you meet the eligibility criteria. After registration, you can open a free checking account for children ages 13 to 17. Your child will be able to use his debit card for ATM withdrawals of up to ​$100​ per day and purchases of up to ​$300​ per day.
Like Capital One and Chase, Alliant has a mobile app with parental controls. Account-holders receive their first box of standard checks for free and may opt for overdraft protection. Plus, they may receive up to ​$20​ in ATM fee rebates each month.