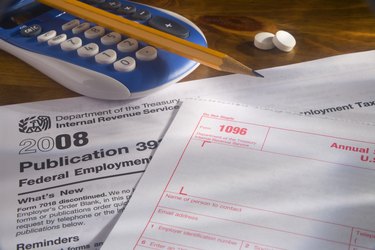 Obtaining 1099 forms can be a source of confusion for businesses. These forms are not available at places like libraries or post offices; in fact, IRS offices may not even have them on hand.
Information Forms
IRS 1099 forms are considered "information only" forms. Unlike the majority of federal tax forms, they can't be downloaded from the IRS website and printed from a standard printer. They can only be obtained by a few methods due to their format.
Format
1099 forms can't be printed on a personal computer printer because they must be machine readable and require special ink and paper; they must be printed following precise guidelines. Companies can even be fined $50 per copy for printing them outside these parameters.
Order Online
1099 forms can be ordered from the IRS website. A link to the ordering page on the IRS' website is provided in the Resource section below.
Order by Phone
Like other tax forms, 1099 forms can also be ordered by phone. The number is 1-800-829-3676, or 1-800-TAX-FORM.
DVD
The Tax Products DVD includes relevant information and forms for the current tax year and some forms from previous years. It does include 1099 forms, but only for informational purposes. The instructions can be viewed on the DVD, including printing and submission guidelines.