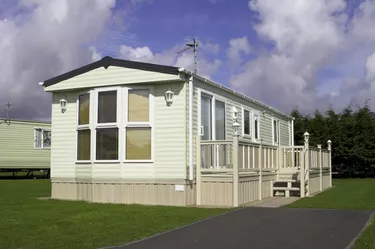 Buying a repossessed mobile home is similar in some respects to buying a repossessed traditional home, but much different in other respects. Just as with a traditional home, an inspection is vital, since a repossessed mobile home is sold in as-is condition and any repairs are your responsibility. This applies whether you're buying in bulk for resale or as a principal residence. It also matters greatly whether the home is on a permanent foundation or comes with no land.
Real Estate vs. Personal Property
Home search and financing options depend on whether the home is classified as real estate or personal property:
A repossessed home that comes with land and a permanent foundation is classified as real estate
A repossessed home that comes with no land or a permanent foundation is classified as personal property
The difference is that a mobile home classified as personal property often is more difficult and expensive to finance. Although government-financing programs are available, a repossessed home in poor condition may not qualify. Instead of getting a mortgage, you may need to finance the purchase with a personal loan, which typically comes with short repayment terms and higher interest rates.
Additionally, in contrast to real property that has an appraised value, the worth of personal property is assigned according to a blue book value, which often is significantly lower. This can be especially important if you're buying in bulk.
Price Expectations
Purchasing a repossessed mobile home can result in considerable cost savings. Construction costs per square foot for a new home already average from 10 to 35 percent less than a comparable site-built home, and according to 21st Mortgage Corporation, a manufactured home lender, a repossessed home is often sold for 20 percent to 40 percent less than its market value.
Where to Search for Repossessed Mobile Homes
You can search for repossessed homes classified as real estate just as you would a site-built home. Options include real estate agents, online real estate listing sites, auctions, newspapers and banking websites.
Options for both types include mobile home-specific sites such as MobileHomeLiving.org, which lists a number of search options.