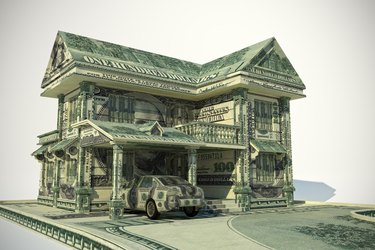 Not all states impose a personal income tax, but all state governments need to raise revenue. So even if you're spared an income tax, you may be faced with relatively high sales or property taxes that take a larger bite out of your finances than an income tax would, with all of its exemptions, deductions and credits. Study each state's tax setup before deciding which provides the easiest challenge to your assets and annual income.
Washington and Nevada
Washington and Nevada present a similar local tax structure. These states do not tax income, retirement pensions or Social Security benefits, making them quite tax friendly for retirees. However, sales taxes in both states are high and exempt only food and prescriptions. In Washington, property taxes are, in most cases, levied on 100 percent of a home's market value; that figure falls to 30 percent in Nevada. The former state offers some property tax exemptions for seniors, while the latter does not.
Alaska
In many ways, Alaska has an old-fashioned approach to taxation. There are no state income taxes or sales taxes, but local governments can levy their own sales tax up to 7 percent. They also have the option to assess a property tax of up to 3 percent on assessed value. Alaska residents benefit from an annual dividend check derived from oil revenues.
Wyoming
The residents of Wyoming enjoy relatively low sales taxes -- at 4 percent for the state levy and up to 3 percent additional for individual county governments. There is no state income tax, and property taxes are paid on less than 10 percent of the assessed value of your home. County property taxes are limited to $1.25 per $100 of this value, while cities can tack on an additional $.80 per $100 of assessed value.
South Dakota
South Dakota advertises itself as a place with "Great Faces, Great Places," but it could also add "Great Low Taxes." There's no state income tax here, and the South Dakota sales tax tops out at 4 percent, with prescriptions exempted. A city may add its own sales tax up to 2 percent, but the elderly benefit from a unique sales tax rebate program that benefits those 65 or older who are living on a relatively low income.
Texas
The Lone Star State is free of state income tax, while sales taxes reach 6.25 percent as of the time of publication, with up to 2 percent additional tax charged by local jurisdictions. Property taxes can get steep, but there's a homestead exemption available and a tax ceiling in effect for those 65 years old and older. In addition, seniors can defer property taxes until they sell their home, at which time the accumulated tax bill must be paid along with 8 percent annual interest.
Tennessee and New Hampshire
Tennessee and New Hampshire spare their residents sales taxes but do levy on dividends and interest, which can be an expensive proposition for anyone depending on investment income. Both states allow a partial exemption on this tax for those 65 and older. Sales taxes are relatively high in Tennessee, reaching almost 10 percent with both state and local charges; New Hampshire slaps taxes on gas, tobacco and liquor.
Florida
The Sunshine State has long been a haven for retirees; in addition to the sunshine, the state's got a relatively easy tax bite. There's no state income tax, but there is a sales tax of 7.5 percent that is paid on just about everything except food and prescription medication. You can shelter up to $50,000 of value from the property tax if you're a permanent resident of the state.