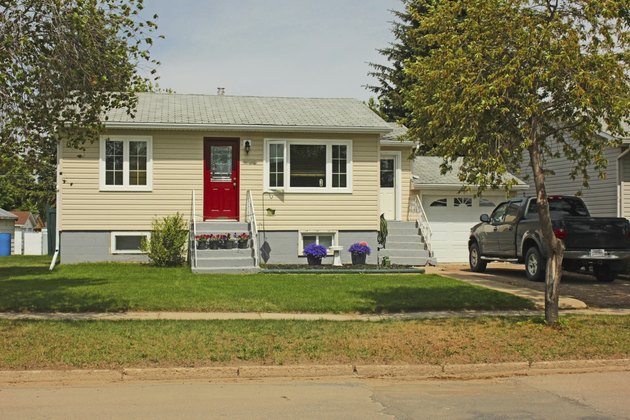 Low-income earners are traditionally on the margins of homeownership. They make up a smaller proportion of the homebuying market because they have a harder time obtaining financing from traditional lenders. Homebuyer assistance programs at federal and local levels can help buyers of modest means, but applicants must meet stringent criteria before lenders will take a chance on them.
Income Is a Main Factor
Lenders consider several aspects of a homebuyer's financial profile, including credit score, payment history, employment history, debt load and income. Income must meet a minimum ratio when compared to a new housing payment and total debt load. These ratios are known as debt-to-income ratios, or DTI. Ideally, lenders want to see DTI ratios of no more than 28 percent for the housing expense and no more than 36 percent for total debt obligations including housing. These DTI requirements often mean that low-income buyers don't qualify for enough money to purchase a home, or that DTIs are higher than the recommended limits, making their loans riskier.
FHA, VA and USDA Loans
Some lenders may loosen DTI guidelines, allowing higher ratios in the 40 and 50 percent range. Federal Housing Administration loans, Veterans Affairs loans and Department of Agriculture loans are among these loan types. However, all other aspects of the buyer's finances must fall into place. For example, the buyer must meet minimum credit scores -- usually in the 620 to 640 range -- demonstrate stable employment for the past two years, have a good payment history for debts and housing, and fully document income. FHA, VA and USDA loans also benefit low-income buyers by requiring low or no down payment. The FHA requires 3.5 percent down, and the VA and USDA have no down-payment requirements. Properties must also meet minimum lender requirements.
Housing Finance Agency Help
State-led housing finance agencies help low-income homebuyers with below-market-rate mortgages. Reserved for low- to moderate-income earners, loans from housing finance agencies also take into account factors that traditional lenders may not, such as household size, the number of a buyer's dependents, disabilities, and government-assistance or subsidization the buyer receives. Housing finance agencies may also offer down payment assistance and may finance secondary loans in conjunction with FHA loans. Common requirements for housing finance agency loans include shared equity with the agency, owner occupancy for a specified number of years and homebuyer education courses. Shared-equity loans mean the homeowner must split any equity with the agency upon sale or refinance.
Work With Qualified Lenders
Only certain lenders are qualified to make low-income homebuyer loans. For example, you must seek an FHA, VA or USDA loan from a HUD-approved lender or bank. If seeking a loan from an institutional lender in conjunction with a housing finance agency loan, the lender must be approved to work with the state or local agency. Qualified lenders can tell you whether you qualify for FHA, VA or USDA loans and can provide information on any assistance available through your housing finance agency.