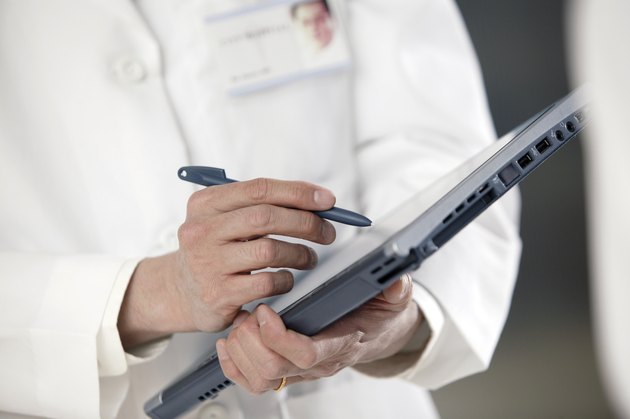 Adding a spouse to an existing health insurance plan, or getting on a spouse's policy, usually happens when someone gets married, changes jobs or loses a job. Although insurance companies typically allow changes only during a period known as "open enrollment," exceptions for certain events might allow you to add a spouse outside this time period. The difficulty of doing this depends on the circumstances and the specifics of your health insurance plan.
Review Terms and Conditions
If your spouse works outside the home, review your policy's terms and conditions to make sure that adding your spouse is possible. A July 2014 Time.com article noted that about 10 percent of businesses that offered health insurance at the time required working spouses to sign up for their own employer's plan if the employer offered health insurance. About 13 percent planned to add this requirement in 2015, according to the Time article.
Special Enrollment Exceptions
The Health Insurance Portability and Accountability Act provides for a special enrollment period that lets you add a spouse to your health insurance plan outside of the open enrollment period. This covers both a qualifying new spouse or a spouse who had, but lost, his own health insurance plan. The special enrollment option only applies to health insurance -- not accident or disability insurance. Most employers require you to add your spouse within 30 to 60 days of getting married, or within 30 to 60 days of the date your spouse lost his insurance coverage. Otherwise, you must wait until the next open enrollment period begins
Open Enrollment
Open enrollment is a predetermined period during which you can enroll in or change your health insurance plan. Your employer sets the time frame, and it can happen at any time during the calendar year. However, most employers schedule open enrollment for about 60 days during the fall because most health insurance policies become effective on January 1 of the next year.
The Enrollment Process
Enrolling a spouse is pretty easy during the open enrollment period. The application will require basic information such as your spouse's full name, birth date and Social Security number. If your spouse does have other insurance, the application will ask for the insurer's name and effective start date. However, if you add a spouse as a special exception, you will need to supply additional information and supporting documentation, such as a marriage certificate. Coverage will become effective either on January 1 or, for a special exception, the first day of the next month.