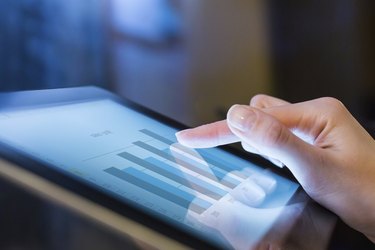 Many Americans lack an understanding of financial markets and how to begin an investment program. More importantly, they may not recognize the importance of investing, which is to build wealth and financial security by ensuring the money they earn also has earning power. You begin an investment program by asking why you'll need money and how much money you'll need at different points in time. Once you recognize these investment goals, you're better prepared to identify investment vehicles that will support your financial objectives.
Tip
The importance of investing is to build wealth and increase financial security. Investing helps meet short-term as well as long-term financial goals, including saving for retirement and paying for large purchases such as a home or college education.
Investment Time Horizon
The time horizon for achieving an investment goal varies from one goal to the next. In addition, some goals are reoccurring, such as travel, and others are more rare occurrences, such as a college education or the purchase of a home. In general, the greater amount of time you have to accumulate the money you'll need, the more risk you can tolerate and the greater return an investment might earn due to the power of compound interest. The criticality of the need, such as saving for retirement, and the time you have to meet the financial need will determine your return requirements and your ability to tolerate investment risk.
Short-Term Investment Goals
You arrange your investment goals by the deadline you set for achieving each one. For example, short-term goals might include a wedding, vacations and major household goods, such as furniture or appliances. Your short-term goals should also include the creation of an emergency fund that consists of three to six months of living expenses.
To accomplish these goals, you might choose investments with short-term maturity dates that allow you to access your money without incurring a penalty. Both a Federal Deposit Insurance Company-insured money market account and savings bonds allow you to you earn money on your deposits that will help you accomplish your short-term goals.
Mid-Term Investment Goals
Saving money for your mid-term investment goals is next on your investment agenda. Mid-term goals include money for a house down payment or house renovation, as well as a vacation home or business investment. You can accomplish these investment goals with investments that entail more risk, such as stocks, because the longer time horizon provides you time to recoup any losses.
Long-Term Investment Goals
Your long-term goals are a critical element of your investment plan that might include a degree program, a family inheritance and a retirement fund. The retirement fund, which means you won't be required to work throughout your life, is one important reason to invest for the long-term as frequently and as inexpensively as possible. You'll want to accumulate your desired annual income after you retire multiplied by your life expectancy after retirement.
For example, assume your retirement investments must generate $100,000 yearly when you retire and that your life expectancy is 25 years after retirement. In this case, 25 times $100,000 is $2.5 million. If you earn a 5 percent return every year during your retirement years, your investments will generate your desired $100,000 income.