Ledgers are simply running records of credits and debits. We use a ledger every time we enter checks or deposits in our checkbooks or deposits and withdrawals in a savings passbook. Some people keep a household ledger. Others keep corporate ledgers for small companies or international corporations. Although computerization has simplified the job of the corporate accountant, it can be applied to household finances as well. Computer-based ledgers are available as freeware or shareware as well as the professional packages available for purchase. Ledger tablets are available at any office supply store and at most stationers.
Ledgers contain at least five columns, used for date, detail, credit, debit and balance. The detail column is used for the name of the payee or source of income and any notes. The income or expenditure is recorded in either the credit or debit column (leaving the other column blank) and a running total is entered in the balance line. Columns may be added to indicate taxable income or deductible expenses. Ledgers should be kept for a certain period---a week or a month---depending on the number of transactions that occur. At the end of the period, debits and credits are totaled and the ending balance is checked by adding the credits and subtracting the debits from the opening balance. The ending balance is "brought forward" as the opening balance on the ledger for the next period. Be sure to mark each sheet of your ledger with a title (household ledger, name of business), dates of the period the sheet covers and headings for columns. If it takes more than one page to cover a period of activity, be sure to mark page numbers for the total number on each page.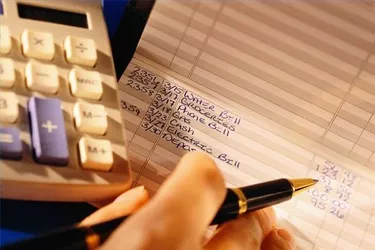 Ledgers are used by accountants to prepare balance sheets, track income and expenditures for tax returns and prepare budgets. To use the ledger for this, they assign account numbers for each group of assets and liabilities. A separate account number may be given to: income from each source, rent, mortgage and loan payments, computer leases, school expenses or any type of income or expenditure that you may need a total for at the end of the year. Account numbering makes it easier to collect data that can be used to figure taxes or make out budgets. Using your ledger, you can prepare a budget for your business and household that can predict what expenses you should plan on and what sort of income you can expect. Keep separate ledgers for business and personal accounts to keep track of money and have complete records for your accountant.