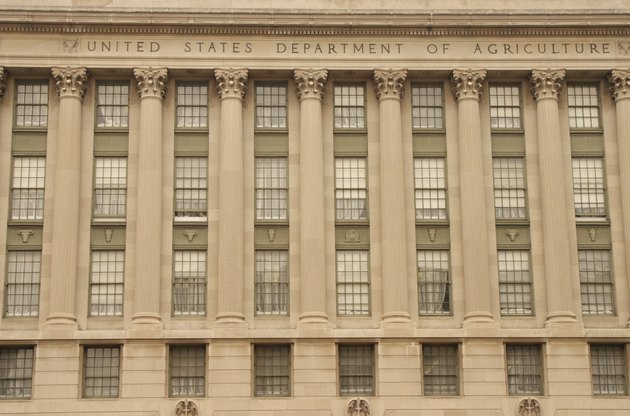 Home improvement grants are available from the federal government through agencies like the Department of Housing and Urban Development. However, they are awarded almost exclusively to state and local governments and community-based organizations to administer. To get an idea of all the available grants and agencies to contact, search the online database provided by the U.S. Department of Health and Human Services. You can search by keywords, such as "home improvement," and other categories. The U.S. Department of Agriculture has two home improvement grants you can apply for directly by visiting a USDA office.
Home Improvement Assistance
The U.S. Department of Agriculture provides home improvement assistance through its Rural Housing Loans and Grants program, also known as the Section 504 Home Repair program. Assistance is provided in the form of both loans and grants. Grant may be used to repair health and safety hazards in the home, weatherize it or make it accessible for disabled household members. Funds also may be used to repair or replace faulty heating, plumbing and electrical equipment, waste disposal and water systems, the roof, and other aspects of the building's structure. If awarded the grant, you are eligible for a lifetime maximum of $7,500. In other words, if the USDA grants you $5,000 one year, you can only collect up to $2,500 in any subsequent years.
Eligibility
To qualify for the USDA home improvement grant, you must be an American citizen, lawful permanent resident of the U.S. or on indefinite parole, at least 62 years old, with a very low income and unable to repay the award amount were it a loan instead of a grant. You must live in a rural area and own and occupy your home. Generally, if you live in an area with 10,000 or less people, it meets the rural requirement. Even if the population is between 10,000 and 25,000, it may still qualify if the USDA has not designated it a Metropolitan Statistical Area. You can check your address using the USDA's property eligibility database.
Application
Applications must be submitted through your local USDA office. The USDA provides a list of locations on its website, complete with address, phone numbers and link to office websites. You must provide proof of age, income, debts and home ownership. Although processing times can vary between locations, a decision typically is reached 30 to 60 days after application is submitted.
Plumbing and Utility Assistance
The USDA also provides home improvement assistance through its Water and Wastewater Grant program. Funds may be used to install plumbing, pay utility installation fees and connect service lines to the home. They also can be used to install missing fixtures, such as a water heater, sink, toilet, shower or tub. To qualify, you must live in a colonia within a rural area, own and occupy your home, have a household income below the federal poverty level, and not be past-due on any federal debt, such as a student loan. There are no minimum age requirements. The maximum lifetime award amount is $5,000. Applications must be submitted through your local USDA office.