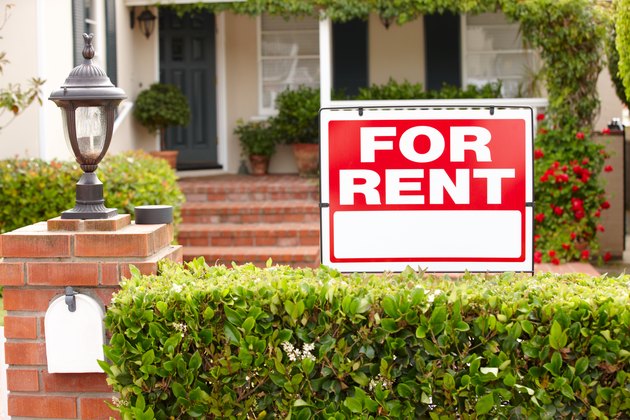 Tip
The rent you charge should cover the cost of the mortgage payment, real-estate taxes and homeowner insurance. Make sure this rent will not price you out of the market for rentals in that area.
Keep an average of 25% of the rent money aside to pay for regular maintenance and any needed repairs.
When home sales fall, some property owners rent their vacant homes until the real-estate market begins to pick up again. If you have been unable to sell your home, listing the property as a rental may be a practical choice. However, be advised that property rental is a type of business with associated costs and responsibilities of its own.
Step 1
Plan your timing. People often are looking to move in early spring and late summer before the new school year begins.
Step 2
Think about what kind of tenant you want. It isn't easy being a landlord, so you have to have realistic expectations.
Step 3
List and advertise your rental property on multiple websites. Include key features when you describe the property in the ad. Advertising your rental on the Internet can be a good value for the money, especially if you include pictures. Serious inquiries like to see photos of the home's kitchen, living room, master bedroom, bathrooms and front entryway. You can advertise the rental in the classified section of local newspapers as well. Point out the advantages of the location, particularly the proximity to shopping and schools.
Step 4
Post a "House For Rent" sign on the front lawn.
Step 5
Ask for a reasonable rent. While it's important to price your home competitively, don't try to rent your property for more than it is worth. Check out the monthly rents for other similar properties in your area. Bear in mind, too, that potential tenants who have excellent credit and good incomes sometimes get insulted if you require both the first and last month's rent up front, in addition to a security deposit.
Step 6
Consider a "rent to own" option, where a percentage of the rent paid each month is applied toward a down payment to purchase the home for a purchase price negotiated beforehand. This gives renters the option to buy the home over a specified period of time. During that time, the tenants usually are responsible for routine maintenance of the home.
Step 7
Hire a rental agent to advertise the property for you. The agent will show the property and screen any potential tenants. On average, the fee charged by the agent will be about a half month to a full month of rent.