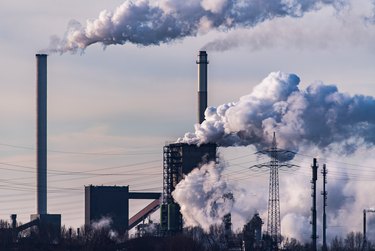 For many, the core tenants of our beliefs are important to us. We may choose not to support companies whose values are antithetical to everything that we hold near and dear. If you hate Exxon Mobil, you may choose not to support them… but you may also be investing in them unwittingly.
There has been a push in recent years to reconcile investments with personal and political beliefs. Five years ago, a group of students called for Harvard to stop investing in fossil fuels. Divest Harvard drew national attention. and since that time, many other Universities have taken strides to divest of fossil fuels, including Yale and Stanford. Harvard, for its part, remains staunch in its refusal to divest.
It's not just universities. Many 401k and other retirement accounts bundle investments into different brackets— from the most risky to the least. You choose which type of risk you want, and then you move on without paying attention to what that means in terms of the companies who are benefiting from your money.
It can be especially difficult to decipher whether or not your portfolio aligns with your personal beliefs. Doubly so if you're not well-versed in financial products from the start.
Here are some steps you can take to keep track of where your money is going.
Attend the meeting
You know that 401k meeting that is happening in the conference room on a day when you would rather do anything else? Drop what you're doing and go to that meeting. It's full of information that you'll want to know. Bonus: when you go with a specific intention, it makes it easier to pay attention and all the financial mumbo jumbo can start to seem more accessible.
Ask
Almost every company has an individual assigned to managing the company's 401k. How do you find that person? They're usually the one leading the meeting mentioned above. Once the meeting is over, pull that person aside and let them know that you have some more specific questions to ask.
Are there any portfolios that are put together specifically without [fossil fuels, pharmaceuticals, etc]? How do I know where my money is going?
If you can't wait around after the meeting, take that persons card and reach out to them later via phone or email.
Build a custom portfolio
One of the recommendations you may get is to put together a custom portfolio. This isn't quite as easy to do as removing oil stocks and calling it a day. One of the reasons that they're a part of so many portfolios is that they have pretty steady profits (which makes sense, since we're addicted).
In order to make sure that you are replacing it with an equal option, you'll want to rely on the advice of your 401k rep.
Ask your company to divest
If your company is the crunchy, granola kind, or if they're open to employee feedback, you might consider suggesting that the entire company divest. The upside of this is that you'd be making a bigger change against fossil fuels, and it will be a lot easier to manage your investments (if everyone is doing it, you won't have to worry about the custom portfolio).
The risk is that not all companies will be receptive to this. You may end up in a Divest Harvard situation.
Independent investments
When you choose to make investments outside of work, focus on those opportunities that really excite you. After all, the people who made millions from their IBM stock bought early because they were excited about the technology.
Follow what excites you, and to quote Shonda Rhimes, follow your curiosity. Then, make sure your curiosity is backed by as much information as possible. Knowledge is power, and being informed about the risks of your investments will help you better weather the ups and downs — and know the time to get out, should that become the case.