In a world that is connected 24/7, it seems impossible to forget about your smartphone for a few days or not check your email - even on holidays. According to research conducted by Ericsson, a slow connection increases the rates of stress and frustration among users. It is also known that heavy internet users are often more affected by anxiety and depression.
Refresh yourself at these inexpensive and off-the-grid spots:
Yellowstone National Park
Although there is zero internet, the park is full of geysers, rivers, waterfalls, and canyons. It is also home to bisons, bears, coyotes, and elks. Yellowstone is inhabited by countless types of birds (even bald eagles), so make yourself at home and see what you can see.
You can stay at places like The Historic Madison or really disconnect and hit up one of the campsites. A year-long entry pass is just $50 per car.
Olympic National Park
It's just two hours from Seattle, but feels like a world away. Once you reach this 1.5 square mile area you'll be greeted by a combo of rain forest, glacial lakes, and a small coastline.
It is possible to book a day trip, but to enjoy the place properly you need about five days. You can choose places such as ToadLily House or go camping. $20 gets you a seven day pass to the whole park.
Grand Canyon National Park
One of the most famous views in all of North America, there are several activities to keep you busy. Raft the Colorado River, hike, or take a mule ride down the canyon.
You should put aside three days to cover the principal sightseeing. The best way to get there is by a private car, but it is also possible to hire a tour. The Grand Canyon Inn is a popular spot for visitors. Skip the helicopter tour and you'll spend about $50 per day.
Chapada Diamantina (Brazil)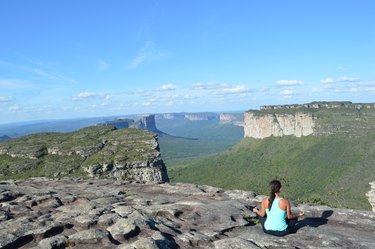 Brazil is so much more than Rio. Chapada Diamantina is the most famous National Park in the country, and it's just 7 hours from Salvador.
You will forget the long ride after you see all the countless waterfalls, rivers, and caves. You need about 10 days to see it all. You should make your base in Lençois, where you can find people who will speak English.
At the HI Hostel Chapada you can have some (maddeningly slow) wifi, but don't expect much connection when you step outside. As a bonus, you'll spend about $30 per day, including hostel, food, and transport.
Cuba (yep, the whole country)
It's not just the beautiful parks that offer tourists a chance to disconnect. Although Cuba is not a 100% off-the-grid destination, you will not find free wifi in restaurants or hotels. To connect you need to buy an internet card that costs $3 per hour and only works in specific spots.
You can take advantage that the relations between United States and Cuba are restored and visit the island. Instead of a hotel, book a local house such as Clarita and Orlando and save a bundle.