Cash and debit payments are easy options at most businesses, but car rentals are an exception. They prefer credit cards, and if you don't have one it's a "red flag" for the rental agency. In most instances it's not an impossible situation, but you'll encounter some time-consuming detours and your dreams of renting a luxury vehicle are likely to be stymied. Your first step is to call rental locations in your area to get information on their policies.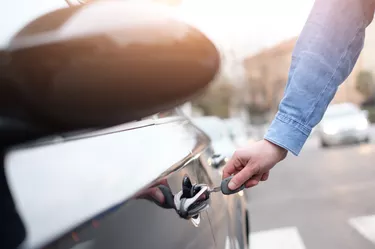 Debit Card Acceptance
As ubiquitous as debit cards are in consumers' wallets and purses, car rental agencies are not as keen toward them as many other businesses are. Many accept them conditionally, or you might find a rental agency that doesn't accept debit cards at all locations. So, for example, if you call a location close to your home and the representative tells you the company accepts debit cards, don't go to another location and expect the same policy. Determine what location you will visit — not just what company — and talk to representatives about what you need to bring with you. Give yourself plenty of time if you're on a schedule, as the rental company may run a credit check, call your bank or view your driving record as part of the approval process.
Debit Card Deposits
Car rental agencies are not completely unreasonable to be concerned about bad credit: Cars are expensive, so they can construe the lack of a credit card as a sign of bad credit and conclude they are incurring a greater risk by entrusting you with a vehicle. Many rental locations offset this risk by requiring a deposit that is held on your debit card, in addition to the cost of the rental, as a protective financial cushion. Each location or situation will determine the deposit amount; for example, if your credit isn't too bad and your trip is local, your deposit may be as little as $100. If your credit is really bad, your deposit may be $500. Once you return the car, the deposit will be lifted if there is no damage, but it may take a few days before it is available to you, depending on your bank.
Cash Rentals
You can pay for your rental with cash, but you can't reserve it with cash at the nationally known agencies, such as Budget or Thrifty. You still need to go through the reservation process with a credit card, if you have one, or a debit card and then settle your account with cash when you return the vehicle. The cost of the rental plus any deposit will still be reserved on your debit or credit card until you return the vehicle, even if you pay with cash. Your community might have a small, cash rental business; do an Internet search on "car rentals that accept cash" with the name of your city to find one.
Securing an Easier Transaction
A credit card is your magic carpet to a straightforward transaction at the car rental counter. If you can't qualify for an unsecured credit card, ask your bank or credit union if it offers a secured credit card. You "secure" credit by paying a cash deposit held in an account linked to the card; so, for example, by depositing $500, you earn a $500 credit line. With a good payment history, the financial institution may raise your credit line without increasing your deposit and eventually lift the collateral requirement completely and issue you an unsecured card. Car rental agencies process secure cards as they do any other credit card, so your only concern is that you have enough credit to pay for your rental.