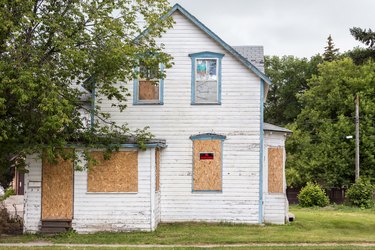 To find a foreclosed home in your price range that has the features you want, you'll need to consult a variety of sources. In just about all cases, a real estate agent, property manager or asset manager will accompany you to the home if you want to have a look inside. In searching for a foreclosed home, you may find overlapping listings and see some foreclosed properties advertised by multiple sources.
Common Foreclosure Outlets
Real Estate Brokers
Financial institution asset managers sometimes hire real estate brokers to list properties in their portfolios, called real estate owned properties, or REO. Additionally, Fannie Mae lists foreclosed homes that are part of its HomePath buyers' program with real estate brokers.
How it works: Listing agents enter the properties in the Multiple Listing Service, just like they do standard listings. They might include wording in the property descriptions that indicate the homes are foreclosures. You can browse MLS foreclosure listings on a range of websites including Realtor.com, Zillow and Trulia. Each of these websites, in particular, allow you to filter your search by the category "foreclosure."
Who shows the property: A listing agent or buyer's agent, as there most likely will be a real estate board-issued lock box on the door.
Asset Manager's In-House Portfolio
Some financial institutions manage their portfolios of foreclosed properties in-house. In a large institution, the asset management department might maintain a webpage of its foreclosure listings linked to the main website. A smaller local bank without a foreclosure website may offer information about any foreclosure listings upon request.
Who shows the property: An asset manager or a property manager hired by the asset manager as there may or may not be a combination lock box on the door. But, your buyer's agent can still accompany you to view the home.
Government Foreclosures
A range of government agencies offer foreclosed or otherwise "seized" homes for sale to the general public. Well-known government agencies with foreclosed homes for sale include the Department of Housing and Urban Development and the Department of Veteran's Affairs. Lesser-known government agencies selling foreclosed or seized homes include, but are not limited to:
Not all government agencies that deal in foreclosed or seized real estate have listings at all times.
Who shows the property: A property manager or listing agent, as there may be a lock box on the door. The reality is that you may encounter challenges viewing some, but not all, government seized or foreclosed homes. When this happens, it's important to be persistent. Keep contacting the people responsible for showing the home until someone responds to you.
Tip
You also can scan newspaper real estate listings for foreclosed homes. However, you may find overlapping information detailing listings you've already seen online.
To Pay or Not to Pay for Foreclosure Listings
You may encounter companies that offer to email you foreclosure listings for a fee. Typically, what you pay for is the convenience that comes with not having to spend time searching various websites and looking over your agent's shoulders in her office as she pours through the MLS with you.
Common Challenges Buying Foreclosed Homes
Challenges buying foreclosed homes include, but are not limited to:
Competition
When it comes to foreclosed homes in "hot" areas, listed at less than market value, multiple buyers might outbid you -- either through a contract submission or auction process -- or you may have to bid close to market value to get your offer approved by the seller.
Home Inspections
Unlike homeowners living in their houses and selling them of their own free will, financial institutions and government agencies usually don't offer to pay for home inspection repairs. Typically, you would pay for a home inspection out-of-pocket during the contingency period of your bid, if applicable.
Financing
You may encounter challenges getting a loan approved if the foreclosed home doesn't meet the lender's standards necessary to serve as collateral; this most often applies to FHA-backed loans with specific property requirements. You may have to walk away from a deal if the lender is unwilling to compromise and you don't qualify for another loan type.