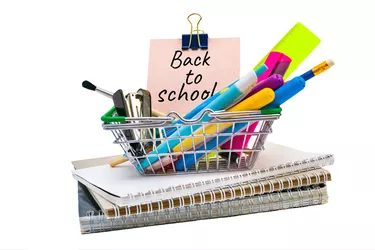 It's so common for teachers to spend their own money on classroom materials that the Internal Revenue Service gives the practice its own tax deduction. But while that might save you a tax dollar or two at tax time, it's not going to pay for those supplies for you at the beginning of the school year. To a large extent, it's up to you.
But this doesn't mean you have to skip this month's mortgage payment to pull it off. Numerous options exist for back-to-school savings for teachers. Take a deep breath first and do some research.
Some Large Chains Offer Deals
Don't be intimidated by the blazing neon sign in front of that mega-store that everyone has heard of. Many of these large chains offer special deals for teachers. They may not advertise them, at least not widely, so it doesn't hurt to ask.
Staples offers a Teachers Appreciation Day each summer. You have to qualify, so it can pay to jump on this one to apply early in the season. You'll receive free – yes, free – classroom and office supplies if you do, subject to certain limits. Call your local store to determine what's required. This one might be worth driving to a neighboring town if you don't have a Staples in your backyard.
AC Moore and Barnes & Noble have been known to offer teacher discounts as well. This usually means providing your school ID and filling out a little paperwork, but you'll save.
Hit Discount Stores and Yard Sales
You don't even have to be a teacher to benefit from discount stores. Ask any parent – particularly one with multiple kids to shop for. They should be able to steer you to the best deals in town. Dollar Tree is known for its selection of teacher products.
Yard sales might abound on every street corner in the summer, depending on where you live and teach. TeacherVision makes a good point here: Where do you think last year's student supplies go when children are graduating to the next grade and they don't need them anymore? Many parents sell those that are still in good condition, so make a quick stop to check it out the next time you see a yard sale advertised. And don't overlook those big church garage sales. They often have a lot to offer.
Parents might well be your best resource, not just because they know where great deals can be found, but because they often have too many unused products lying around. And not all of them have the time or energy to hold a garage sale.
Reach out to those you know fairly well to find out if there's anything you can take off their hands. This could be a good option if you taught Billy's big sister last year, so you know his mom, and Billy is headed to your classroom this fall. You might even consider asking for donations at back-to-school or meet-the-teacher night, or sending home periodic requests as the year progresses. Many of those large chain stores will allow you to post wish lists online on their websites, including Walmart and Staples. Amazon does as well.
You're not limited to asking individuals for donations. Touch base with the management of local restaurants and other stores. They might be willing to make a cash donation to help you along.
Consider Your Timing Also
Getting a late start with your shopping might actually be a good thing. Retailers have a window of time to sell their products at premium prices before the school year begins, then they slash their prices when that school bell officially rings. Set some time aside, if possible, and score big. The longer you can wait, the more prices should drop.