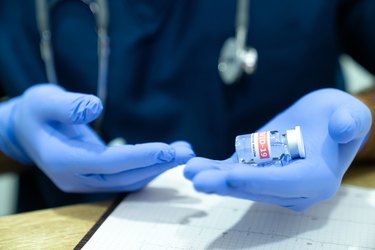 We should know soon whether the Food and Drug Administration is satisfied with the two most promising COVID-19 vaccines — and whether we can expect distribution to begin shortly. There will be tiers and waiting lists and protocols to determine who gets access first, but if we keep up or improve our existing mask and social distancing protocols, we should be able to turn the corner for real on this pandemic.
For some, however, that brings up real questions about what employers may be allowed to expect of them. About 4 in 10 Americans remain skeptical about a COVID vaccine, whether they're uncertain about the unusually fast process or just vaccine-averse in general. The good news is that as time passes, more and more are straightforwardly interested in getting a COVID vaccine.
One important result of widespread vaccine adoption will come in the economy: More people will be able to safely work, especially those in caring and service professions. ​MarketWatch​ asked this fall whether employees could expect mandatory vaccinations in order to continue at their jobs. According to several legal experts, the answer is yes — but it's not likely.
"Employers have significantly more freedom when it's an employer just enacting its own policy, and it's not a government-mandated policy," said law professor Debbie Kaminer, "because constitutional restrictions simply do not apply to private employers." There are exemptions available for sincerely held religious beliefs and disability accommodation, but it's more likely that an employer would simply strongly encourage getting the vaccine, if it becomes an option.
It's worth noting that vaccines are safe and effective, and the FDA maintains rigorous standards. It's in everyone's interests only to release a good COVID vaccine, so keep an eye on the news for when that might be.