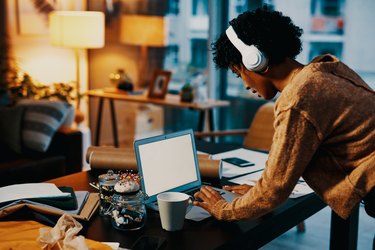 One-quarter of American workers can do their jobs from home, and given the uncertain timeline we're all facing on a COVID-19 vaccine, they might keep doing so for a long while. Remote work isn't as simple as setting up shop on your home computer, and a vanishingly small number of higher-ups seem to understand what it entails.
Yahoo! Finance reports that just 10 percent of employers have offered their workers subsidies to help cover costs of working from home. This may seem unintuitive at first, but remote workers are, in essence, footing all kinds of expenses that businesses normally cover, from office supplies and utilities to rent, internet access, and furniture. If this still sounds strange, consider that freelancers who work out of a home office can write off these expenses, as well as a certain percentage of rent or phone bills, commensurate with how much the freelancer uses those for running their own business.
Unsurprisingly, there are a lot of opinions about whether workers should expect these kinds of subsidies. Employers are looking to cut costs anywhere they can, and workers may not know to expect assistance for home office expenses unless they need a direct write-off, such as for a new piece of equipment. Still, with remote work obliterating work-life balance and literally making the working day longer, employees should be able to push for added compensation. If businesses can pay workers less based on where they do their work from, it only makes sense for employees to claw back savings of their own.