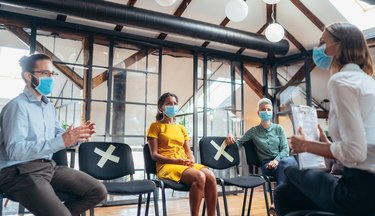 Everyone wants things to go back to the way they used to be, but the COVID-19 pandemic has been setting the rules ever since it showed up in the U.S. The nation has been brought to a near standstill in many ways, creating widespread hardship among every economic class. The answer to our record-breaking unemployment and staggering financial losses is to fix the coronavirus, but in order to do that, we'll have to make some sacrifices — and we'll have to all pitch in.
That's according to new research published by the University of Texas, which looked at a number of different statistical models to figure out what consistent factors in simulations ended with pandemic conditions receding. "We show that a business entity may stand a good opportunity to generate positive net profit after reopening," said lead author Hongyu Miao, but "only if necessary protection measures are strictly implemented." The successful models not only took into account policy changes for employees and the workplace, but the cost of implementing procedures and providing necessary PPE.
The six essential steps for opening your business are:
Wearing goggles, gloves, and masks (when employees aren't alone)
Frequent hand-washing
Routine sanitation of the work floor
Social distancing
Monitoring body temperature
Quarantine of exposed and sick employees
If these all sound familiar, it's because public health experts have been calling for these measures since the pandemic broke out. If we can all get on the same page about how to be in public together, we may be able to get life back to where we want it again.