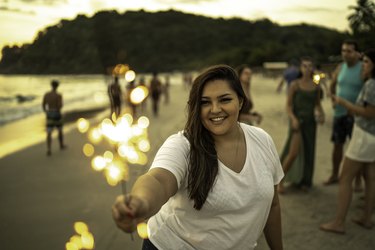 The Fourth of July is a great time of year if you love crowds, cheering, and excitement. Unfortunately, all three are a recipe for COVID-19 transmission, which means most communities are skipping out on parades, parties, and patriotic displays this year. After months of self-quarantine and an uncertain future, however, plenty of Americans have decided they're not giving up on fireworks.
If you've been seeing and hearing a lot more explosions leading up to July 4th, you're not imagining it: A new national survey from Orlando Health has found that more than 40 percent of Americans say they're buying their own fireworks this summer. Sixteen percent of those say they're doing so explicitly because of COVID. As ever, emergency room physicians are urging celebrators to be as careful as possible, to avoid burns and other serious injuries:
Never hold fireworks in your hand after they are lit.
Keep a bucket of water or a hose nearby.
Never allow children to have unsupervised access.
Stay sober when using fireworks.
Beyond that, we're all still negotiating how to balance letting off steam, celebrating, and considering neighborhood quality of life. The New York Times reports that New York City is receiving at least 80 times the complaints about illegal fireworks it did last year, but given the many other strains on city institutions, enforcement isn't a priority. If you're sitting on a pile of explosives and it's burning a hole in your pocket, find an isolated area if you can — and set a reasonable end time for your neighbors' sake if you can't.