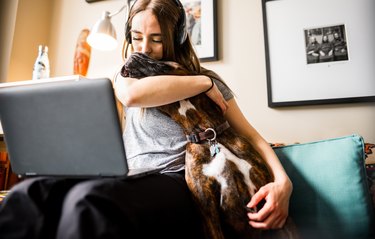 At least 30 million Americans have filed for unemployment for the first time since the novel coronavirus COVID-19 shut down the country. Normally, unemployment insurance is for workers who, through no fault of their own, have lost their full-time jobs, thanks to events like a mass layoff or departmental restructuring. Now that so many workers are staying home to protect their communities, the definition of who can apply for unemployment has changed, thanks in large part to a federal law, the CARES Act of 2020.
Who is eligible for unemployment benefits?
Because of the pandemic, eligible workers include both W-2 workers and the self-employed, freelancers, gig workers, and 1099-independent contractors, as well as those who qualify for Pandemic Unemployment Assistance. Potential PUA claimants include those who are diagnosed with, experiencing symptoms of, or affected directly by COVID-19, including caretaking duties. Some examples might be parents of children whose schools have been shut down, or an employee who can't reach their workplace because of quarantine restrictions.
How do I apply for unemployment benefits?
You can apply through your state's Department of Labor or its equivalent, either online or over the phone; in-person application is not available while the pandemic is ongoing. Visit the federal Department of Labor's FAQ on unemployment and PUA for overall details, but seek out guidance from state-run authorities and websites for the most concrete information. To find your point of contact, visit the U.S. Department of Labor's unemployment FAQ or go to the federal government's Career OneStop Unemployment Benefits Finder, choose your state from the drop-down menu, and follow the appropriate links.
Once you've found your state's unemployment benefits agency, follow the onscreen instructions to either log in with your account or create a new account to register for benefits. The website should include either FAQs or instructional videos, as well as translation options if you're not comfortable with English. If you need further help, you can also call the listed phone number to speak with a human, but because call volumes and website usage are high right now, you might have to be patient and keep trying.
How much is available through unemployment?
That depends on your state, and on what you were earning at the job you lost. Usually it's calculated as a percentage of your base pay over a set period of time, up to a maximum amount determined by the state. Look for a benefits calculator on your state's unemployment website for a better idea.
In addition to payments from the state, the federal government will distribute $600 alongside each disbursal for a certain period of time, which varies by state. These federal payments last into July 2020 in many cases, but some states offer them through December 2020. Base benefits can last for 26 weeks; an additional 13 weeks of benefits are available through the federal CARES Act. Some states require an application for the benefits extension, while others offer it automatically.
How do I follow up on unemployment payments or issues?
Each state's agency offers appeals processes and means to contact a benefits manager with questions or concerns. Look for special phone numbers, email addresses, or submission forms online, or call the listed phone numbers for more information and guidance.