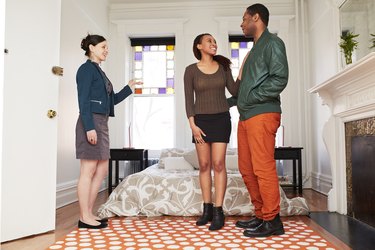 When it comes time to move, you want to plan as much as humanly possible beforehand. Whether you're looking for a full-blown house or a room in a group apartment, you're basically on the hunt for all the same assertions: that you'll be happy and comfortable here, as will your stuff. There's an easy way to create trouble for yourself in the shopping stages of moving, and an equally easy way to save yourself the headache.
Going to home viewings, broker appointments, or open houses can be exciting, awkward, or both, but according to real estate professionals, they're half-useless if you forget to bring a tape measure. You might fall in love with a unit's big windows or its proximity to public transit, but if you can't fit the furniture you already own in the floor plan, it's best to keep on looking. There's a chance your broker might have come prepared if you haven't, but give yourself the peace of mind that comes from planning ahead.
If it's not possible to check out every nook, cranny, and dimension in your would-be future home, don't fret. Ask the property manager or real estate agent for a printed or digital floor plan, with measurements. It may not be perfectly proportional, but you should be able to make some educated assumptions about the unit. Finally, be sure that any doorways and vestibules will allow your furniture and belongings to come inside. You might have to take a door off its hinges or disassemble a couch, but better safe than sorry.