Having an emergency fund is really important. Why? Well your emergency fund is basically your backup plan when unexpected life occurrences or emergencies happen. It allows you to weather any storms that might come your way without you having to leverage debt to get you through the situation. It's essential to have one because the truth is that life happens – cars breakdown, water heaters stop working, job layoffs occur and you need to have a fall back plan.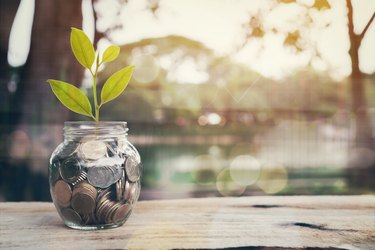 Having an emergency fund allows you to weather any storms that might come your way without you having to leverage debt.
At a minimum, your emergency fund should cover 3 to 6 months of your essential living expenses (12 months would be amazing). However, 3 to 6 months of living expenses is a huge chunk of change to come up with and so here are some ideas to help you build your emergency fund.
Most of us have things in our homes and in our closets that we just don't use. Spend some time going through the things you own and consider selling those items you no longer use that are in good condition. Things like books, clothing, shoes, accessories and other household items can earn you some good money to put in your emergency account. You can sell your gently items on websites like eBay, Etsy, or Craigslist or you can take them to local consignments stores.
A quick way to bulk up your emergency fund is to get a short-term part time job to help you earn some additional income that you can save towards emergencies.
Start a low cost side hustle
Do you have a hobby you are really good at? Do your friends and family compliment your skills all the time? Consider monetizing your skills by starting a side hustle to earn your some extra income that you can put in your emergency fund.
Get a streaming service instead of cable
Cable is expensive and is a big monthly bill for many people so as an alternative consider canceling cable and switching to a streaming service like Netflix, Hulu, or HBO Go, etc. They are considerably cheaper and you'll still get to watch some of your favorite shows!
Lower your cellphone bill
Cell phone plans can cost a lot of money especially if you have data included as part of your plan and who doesn't these days? Give your service provider a call to see if there are any specials or offers they can give you for being a loyal customer or consider downgrading your plan to one that costs less.
Eating out everyday can add up fast! The average lunch costs $10 to $15 dollars. Instead, plan your lunches for the week based on what you have at home and put the money you save in your emergency account.
Cancel the gym membership
So many gym memberships go unused and if yours is one of them you should definitely think about canceling it and putting that money towards your emergency savings. You can workout at home or take advantage of the great outdoors to get fit.
Cut back grocery shopping
Reduce the total amount you spend grocery shopping by preparing a list of what you need beforehand. Shopping online for groceries if you have a local delivery option could potentially make it easier for you to stick to your list and then you can put the money you save into your emergency account.
Trying out one or of all of these ideas will definitely get you well on the way to bulking up your emergency savings quickly. The amounts may seem small, but they add up – remem ber every single dollar counts.