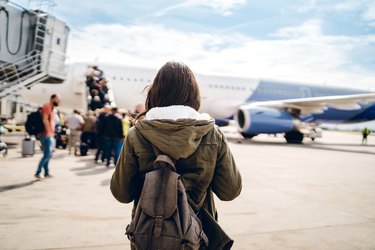 The truth is, when we get on an airplane, we're all on the same airplane, no matter what we paid. Whether you board at the front of the list or the end is basically a matter of whether your carryon can be stored near your seat, if at all. (We should be checking those, in most cases.) But if you really care about gaming the boarding process any way you can, Alaska Airlines is happy to let you do so.
This weekend, the carrier is letting passengers who are holding a Starbucks holiday-edition cup board in an "espresso" lane, as part of a limited promotion running Thursday through Sunday. The airline will also make the process of finding your seat that much more delightful by leaving treats on random cushions, so watch where you sit. Passengers who take part in this promotion need not order a holiday-themed beverage (more time to nurse your sorrow about the gingerbread latte not coming back) — in fact, your cup can be empty. If your airport's Starbucks is leaning on compostable cups, Alaska Airlines will accept passengers with a holiday sleeve on their reusable cups instead.
If you're rubbing your hands together in anticipation, it may be worth noting that this promotion doesn't bump you to the very front of the line: First-class, elite frequent fliers and others still board before espresso-line participants. If you're looking to keep your travel spending in check, though, staying away from airport purchases altogether might actually get you the farthest.