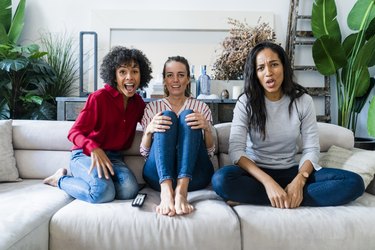 When you get right down to it, there's only one thing wrong with building a mega-successful business: In the end, you may just run out of new customers to reach. While Netflix isn't there yet, it could be in sight, which is why we're likely to soon see a big crackdown on how we access Netflix at all.
FastCompany reported this month on a rumor that shared passwords among friends, rather than households, could be going out the window soon. In January, we learned about an AI that can tell if you're sharing accounts, so the technology is already out there. From Netflix's perspective, if you and your roommate and her significant other and your cousin are all using one login, that's one-quarter the revenue they could (and, in their eyes, should) be making. In fact, more than 1 in 3 millennials say they share logins or take advantage of someone else's credentials to stream content.
"I think we've got no big plans to announce at this point and time in terms of doing something differently there," Netflix's Greg Peters told FastCompany. "We continue to monitor it, so we're looking at the situation, and we'll see those consumer-friendly ways to push on the edges of that." Of course, if you ask consumers, most likely they're sharing passwords because it's getting expensive to subscribe to every streaming service available. With Disney+ right on the horizon and access to pop culture increasingly locked behind paywalls, the solution might need to be more systemic than AI oversight.