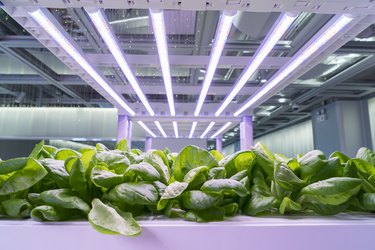 If you're settling into your Pumpkin Spice Latte and feeling a twinge of regret about missing Hot Girl Summer, never fear: It's not nor is it ever too late to set up a garden inside your home. Whether you got used to fresh farmer's market lettuces and herbs or you just want something alive to brighten up your living space, you've got a range of options — some of which take care of all the gardening for you.
Apartment Therapy highlights a new Kickstarter-backed home garden system call Verdeat, which takes all the guesswork out of keeping your greens alive. Not only is it a stackable, modular setup with lights, water filtration, no messy soil to deal with, but everything you grow is sourced organically. Choose from pre-seeded pods with anything from strawberries to microgreens to cucumbers; you can make any caretaking adjustments via the Verdeat app.
Since it's a Kickstarter project, the Verdeat isn't shipping out just yet. But if you're looking for a similar setup that's available right now, the startup Hamama has got you covered. This product also offers pre-seeded pods that can provide nutrient-packed microgreens in about a week. The company ships you the pods, and after watering just once, you can set the pods in a window and forget about it until you're ready to harvest. Hamama's starter pack goes for just $35.
Of course, there's also the super low-tech approach: An IKEA greenhouse, a few seed packs and peat pods, and a Grolight if you're fancy, and you can keep plants in your living space all year long.