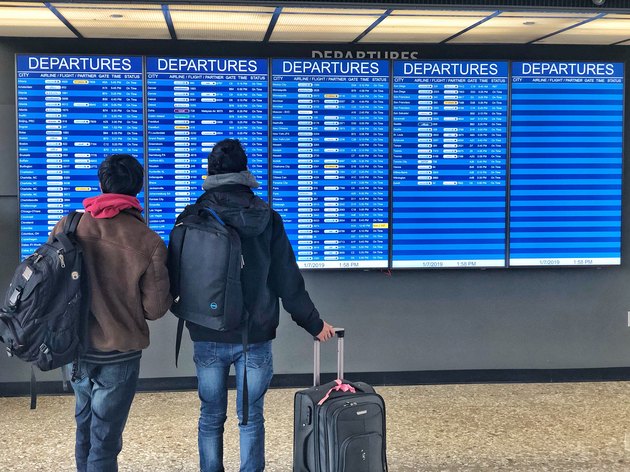 The ongoing partial government shutdown is already the longest in U.S. history, and it's far outpacing any of its predecessors. Hundreds of thousands of federal employees and contractors are going without paychecks. On Thursday, neither major political party could pass a vote to reopen the government.
Aside from IRS tax officials, FDA produce inspectors, and the FBI in general, one other key arena is buckling under the shutdown: air travel. Transportation Security Administration workers have been variously coming to work without pay or coordinating sick days in protest. Even more concerning is a recent warning from Federal Aviation Administration employees, including air traffic controllers, pilots, and flight attendants.
"[W]e are not confident that system-wide analyses of safety reporting data, which is used to identify and implement corrective actions in order to reduce risks and prevent accidents, is 100 percent operational due to reduced FAA resources," union leaders said in a statement released on Wednesday. "In our risk-averse industry, we cannot even calculate the level of risk currently at play, nor predict the point at which the entire system will break. It is unprecedented."
Some pundits believe only an air travel employees' strike can end the shutdown; it's an idea that has traction among certain members of Congress and the administration as well. No matter what, whether you're traveling in the near future or not, it's worth calling your elected officials and speaking your mind about the shutdown, who it's affecting, and how it should end.