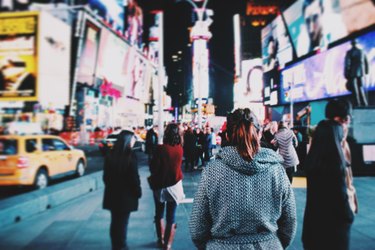 It doesn't seem right that nearly three-quarters of employment growth over the past decade has happened in a small handful of American cities. That's precisely the reality, however. According to a new study by the Brookings Institution, the prosperity gap between certain cities and everyone else is greater than we thought.
"Big, techy metros like San Francisco, Boston, and New York with populations over 1 million have flourished" since the financial crisis, write the study's authors. Those places account for 72 percent of job growth in the country. "Smaller metropolitan areas (those with populations between 50,000 and 250,000) have contributed less than 6 percent of the nation's employment growth since 2010," the researchers continue, "while employment remains below pre-recession levels in many 'micro' towns and rural communities (those with populations less than 50,000)."
This gets at the crux of a common problem for adults of all ages: Stay close to your family or go where the jobs are? The cities that are prospering and topping best-of lists aren't always affordable options. Even within the biggest and brightest urban areas, some employers have to pay employees extra to live close enough to their workplaces. The Brookings team has some policy suggestions for how to spread the wealth and take some pressure off all workers. A lot of them are infrastructure issues to equalize opportunities in rural communities. Read the report and contact your electeds if the ideas speak to you. It's easy to feel helpless against macro trends, but they're not inevitable.