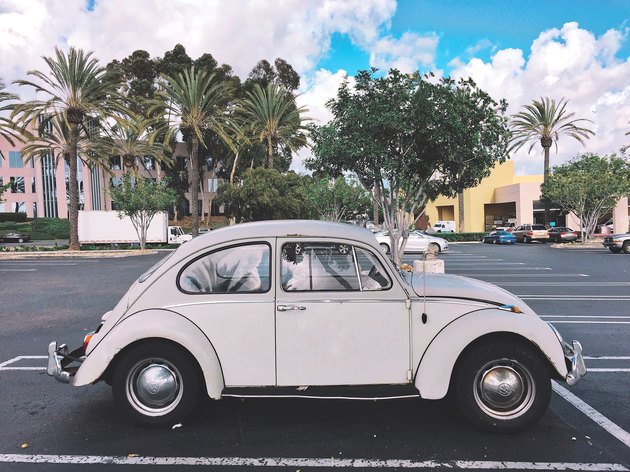 There's no car that epitomizes the hippie era like the Volkswagen Beetle. With its friendly dome, eye-popping curves, and often-excellent psychedelic paint jobs, the Bug just screams the '60s. If that's your jam, better plan to snatch one up: VW has announced its iconic coupe and convertible is retiring soon for good.
Volkswagen said this week that it's releasing a "Final Edition" special version of the Beetle, and will probably cease production of the car by 2019. The Beetle actually turns 70 this year, making it the longest-running model in automotive history. Its origins are admittedly problematic: The "People's Car" was created as part of Adolf Hitler's vision for a distinctly German auto industry and national identity. (The same can be said of major brands like IBM, Hugo Boss, and Bayer.) However, VW survived to become a counterculture icon during the 1960s and '70s, with both the Bug and the Minibus — which has just reemerged as an electric vehicle.
The Bug hasn't had the smoothest of rides over the past several decades. It's nearly died out several times before, and its comebacks have occasionally been impressive. Even now, VW execs hint that Bug-lovers should never say never. But cars require a lot more than an interesting shape these days: They're often smart enough to need their own insurance, and consumers can even try a subscription service to test out their favorite model. Perhaps we'll see more money-saving electric cars going forward (especially considering VW's brush with its high-profile diesel scandal). If all of this is making your head spin, don't worry — until the Bug rides again, there's always your bike.