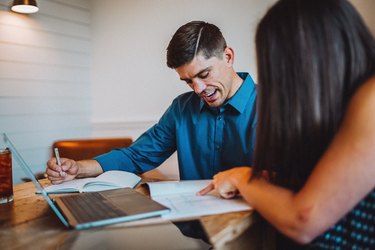 "Personal finance" can be a squirrely topic to pin down. When do you graduate from savings accounts and paying down debt to needing the decidedly suits-and-ties-sounding services of a money manager? It's not as black and white as "buy stocks, hire financial adviser," but if you can answer a few questions about your money and your goals, you can know whether it's worth talking to a professional.
There are a couple of widely agreed-upon situations in which you probably don't need a paid financial adviser. Strategist Barry Glassman, writing for Forbes, suggests that if you love playing the investment game yourself, it may be worth sticking to your apps. This also applies if you've got most of your financial work automated, such as deposits or bill payments; it's a great way to build wealth without overthinking it. Finally, if you only need tax help, know when to ask for it.
That said, you don't know what you don't know, according to investment adviser Kristin McFarland. Writing for The Street in July, McFarland says it's worth your time to figure out what's keeping you from looking into financial service advice. If you think your money situation is too simple, or if a money manager seems too costly, you may be underestimating what you have to gain.
Consider a preliminary meeting with a professional you feel you can trust, particularly if they come recommended by someone you respect. Avoid sharks: Research shows that movie-style sociopaths make terrible advisers. But asking questions directly may get you some valuable answers that help your money start working harder for you.