It happens. Life is good and moving along uneventfully and then boom! Something unexpected occurs and you need to get your hands on some cash fast. You remember a friend who was in a similar predicament once and he took out a vehicle title loan to get through. And there's your car, sitting in your driveway, just waiting to help you out. Should you go for the loan? Well, that depends on numerous factors. Vehicle title loans, also known as pink slip loans and title pawns, have pretty bad reputations. Then again, they can provide you with cash quickly in an emergency, usually without a credit check, at least in states that allow them. Not all do.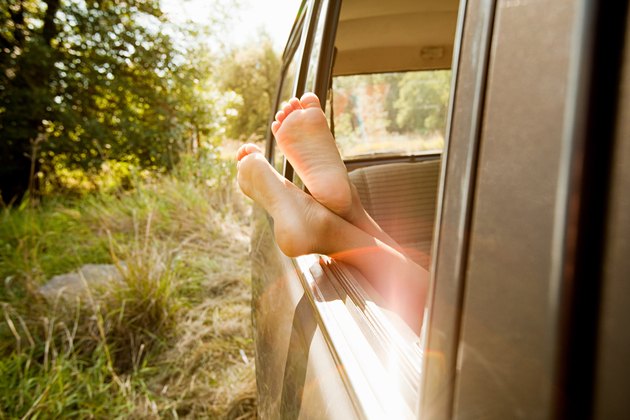 Vehicle Title Loan Definition
A vehicle title loan is typically not for an exorbitant amount of money and your payments on the loan won't be spread out over a year or more. These are short-term loans for comparatively small amounts, anywhere from $100 to several thousand dollars. The entire amount you borrow plus interest and associated fees usually comes due in about 15 to 30 days.
Interest rates are significantly higher than with most other loans. The average is about 25 percent but it can go as high as 30 percent a month, which works out to 360 percent annually. In other words, if you borrow $2,000, you might have to repay $2,600 within a month – plus processing fees, title charges and other add-ons.
You'll receive a loan equal to 25 to 50 percent of the value of your car and you must turn over your title in exchange. Value is often set at wholesale prices.
How Does an Auto Title Loan Work?
The lender will keep your auto title until you satisfactorily repay the loan plus the interest and the fees. The lender can legally repossess your car if you don't and sell it to recapture the money you borrowed. Your vehicle acts as security for the loan. You effectively gave your car away when you turned over the title.
The lender is legally obligated to tell you – in writing – both the annual percentage rate you'll be charged and how this works out in actual dollars depending on how much you're borrowing. The paperwork must inform you of any additional fees you'll have to pay on top of the interest, as well as how long you have to repay the loan.
You'll get your title back when you repay the loan. Otherwise, you'll lose your vehicle. The lender will claim ownership of your car and sell it.
What Is Needed for a Car Title Loan?
You can't get a car title loan without your original title – that's the integral piece of the equation. And you can't provide a copy. This usually means that your car isn't financed – it's paid off and there are no liens against it – although the Federal Trade Commission indicates that some lenders will make exceptions to this rule.
You'll additionally have to submit an application for the loan and make your car available for inspection. If your vehicle is an antique with six-figure mileage, you're probably out of luck. You'll also need a government-issued photo ID, such as your driver's license, to confirm that you are indeed the owner named on the car's title.
Many lenders also require that you provide an extra set of key, and you might be required to buy a roadside service plan if you don't already have one. You'll have to provide proof of insurance coverage, often including liability. It's not out of the question that the lender will require you to install a global positioning system device so it can locate your vehicle in the event of nonpayment, or even a starter interrupt device to prevent you from driving away into the sunset if you don't repay the loan.
Some lenders might additionally want to see proof of your income, proof of residency, current vehicle registration and possibly references.
Do Banks Give Loans on Car Titles?
Most of these lenders operate out of storefronts or you can find them online. You'll most likely be directed to go to a store near your location if you apply online because the transaction can't be finalized until you physically hand over your title. Banks also occasionally make these loans but the rules for qualifying can be more stringent and often require a credit check.
Other Considerations
Some vehicle title loan lenders will let you roll your loan over for another month if you simply can't pay up at the end of the initial 30 days. They won't immediately seize your car, but all that interest and those fees will keep compounding, potentially making repayment nearly impossible. Some states require that if the lender repossesses and sells your car for more than you owe, it must give you the balance of the money. This isn't true everywhere, however.
Financial experts generally consider car title loans to be an option of last resort. The FTC suggests taking a cash advance on a credit card instead – yes, the interest will be high, but probably not as much as a title loan – or applying for a personal loan with your bank if your credit is sufficient to qualify.