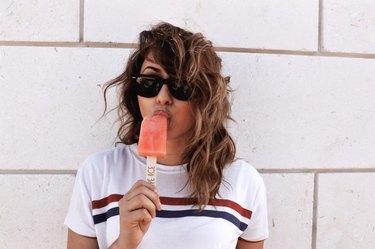 The fancy name for stamp collecting is philately. In future years, this summer's hottest stamp might become the Beanie Baby of its time, not least because kids young and old may snap it up. We're speaking, of course, of the U.S. Postal Service's hippest new release: the scratch-and-sniff stamp.
On Monday, the venerable home of the Pony Express, first Postmaster General Benjamin Franklin, and the infamous Inverted Jenny introduced its Frozen Treats Forever collection. "The stamps feature illustrations of frosty, colorful, icy pops on a stick," according to a press release. "Today, Americans love cool, refreshing ice pops on a hot summer day. The tasty, sweet confections come in a variety of shapes and flavors."
We don't have confirmation of what the scented stamps will showcase; USA Today reports that they'll only feature one scene. However, given the following lines from that press release, we may have an idea of what to expect: "In recent years, frozen treats containing fresh fruit such as kiwi, watermelon, blueberries, oranges, and strawberries have become more common. In addition, flavors such as chocolate, root beer, and cola are also popular."
If you're really amped up by the idea of scratch-and-sniff postage, you can preorder booklets of 20 at this link. The post office will release the stamps on June 20, and even if you hoard them this summer, you can still use them any time, since they're forever stamps. Nostalgia can be a powerful financial tool under the right circumstances; the USPS clearly hopes that you'll agree.