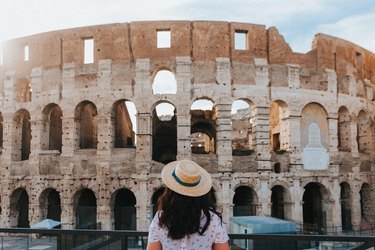 There are so many reasons to see the world and get outside your comfort zone. Those who take a gap year, whether it's after high school, after college, or simply between jobs, report a host of benefits: greater independence, self-confidence, and cultural awareness are just a few. Yet many millennials are skittish about taking that kind of "selfish" time out of their careers. As a generation, we shouldn't be so worried.
New research from the travel group Topdeck has found that one-fifth of millennials are worried that a gap year will set them back as they try to find work in an outrageously competitive economy. We still want certain things from travel, though: For men, about 1 in 5 said they'd try a gap year if it would help them meet their next significant other. Women aren't looking for love in the same numbers, though — 31 percent wanted to return from a gap year more independent and better knowing themselves.
Financial and safety concerns also gave millennials pause in a big way. But if the prospect of traveling for a year, with no structure, no community, and no backup seems intimidating, remember that backpacking solo is just one model for world travel. Lots of organizations offer volunteer opportunities that embed in local communities, if you want to make a difference. You can also book group travel packages with tour groups that target young people (they exist!).
If money is a roadblock, figure out what kind of budget you need when you're abroad and where you can't compromise. Contrary to their popular image, hostels aren't entirely raucous bunk-bed situations — many offer private rooms at a fraction of the price of a hotel. Consider what kinds of side hustles you can swing, both to beef up your savings as you plan and while you're out on the road. Organizations like the American Gap Association can help with planning, while the internet is full of opportunities to connect with other past, present, and hopeful "gappers."
Just 13 percent of millennials thought taking a gap year would help them get ahead in their career, according to Topdeck. For the rest, chew on this: More than 80 percent of employers said they'd be more interested in prospective hires with extensive travel experience. A lot about world travel is about facing the unknown. Given how many are glad they took the time to so, the risk seems worth it.