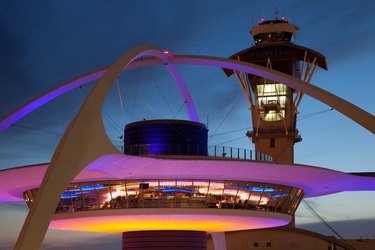 There's a new way to travel through Los Angeles International Airport, but you need to pay at least $2,000 a pop to use it.
The recently opened Private Suite is a VIP private terminal — which promises stress-free, luxury travel — available to those who are willing to shell out the price of admittance. As the website boasts, "It typically takes 2,200 footsteps from car seat to plane seat. For members of The Private Suite, it's 70 footsteps. And they are all peaceful footsteps." Another big selling point, at least for the celebrity clientele, is the lack of paparazzi.
Other perks of the private suite include spending your pre-flight time in, you guessed it, private suites. "Each with its own bathroom, its own food-service pantry, a two-person daybed, and a runway view of aircraft landing and taking off." Not bad.
Membership is pricey. The annual fee is $7,500, along with a per flight fee of $2,700 for domestic flights and $3,500 for international flights. Those who pay for the annual fee get a whole host of perks including the option to have a massage, haircut, or manicure while at the airport.
It's also possible for non-members to use the suites as well, either by booking private suites ($3,500 for a domestic flight, or $4,000 for an international flight), or by paying to use the communal lounge area ($2,000 for domestic flights, $2,500 for an international flight).
This is all pretty Lifestyles of the Rich and Famous, but if you have a few thousand dollars burning a whole in your pocket, now you know one way you could spend it.