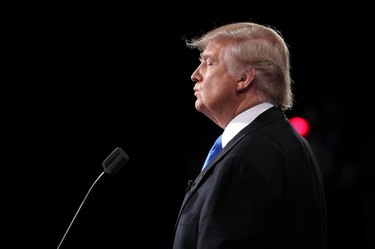 On Tuesday, President Trump and his administration delivered their comprehensive 2018 budget proposal to Congress. The document is called "A New Foundation for American Greatness," and it is a 62-page layout of the $4.1 trillion budget. Of course, none of this can be enacted without Congress signing off on it but while we wait for that outcome, here are a few things everyone should know about the budget proposal.
1.  It cuts a lot from the world of medicine and medical research.
The National Cancer Institute would receive $1 billion in cuts, The National Heart Lung, and Blood Institute would have $575 million cut, and the National Institute of Allergy and Infectious Diseases would see a cut of $838 million. There would also be a gauging $1.2 billion cut from U.S. Centers for Disease Control and Prevention, making their budget the lowest its been in more than 20 years. Planned Parenthood would receive no federal funding whatsoever. The Children's Health Insurance Program, which helps children from low income families, would be cut by 20%. The plan also seeks an $800 billion cut on Medicaid.
2. Other sciences are taking a big cut too.
The National Science Foundation would receive an 11% cut, with those behind the budget pointing to climate change as a big money suck. "We are simply trying to get things back in order to where we can look at the folks who pay the taxes and say, 'Look, yeah, we want to do some climate science. But we're not going to do some of the crazy stuff the previous administration did," Mick Mulvaney, the director of the Office of Management and Budget told the press.
3. Food stamps are basically out.
Over the next decade, $193 billion will be cut from food stamp programs. It is a cut of more than 25% on a program that serves 42 million people.
4. There will be education cuts too.
The cut proposed on education is $9.2 billion, or approximately 13.5%. These cuts would range from pre-K to higher education and would axe a bunch of different programs. Front and center on the chopping block is cutting $2.3 billion on a teacher training and class-size reduction, and a $1.2 billion after school program which serves roughly 2 million children. There is also a $190 million literacy program which would be cut.
5. Defense and the Border Wall both get big money.
The budget includes a 10% increase on military spending. This is most notably seen in a $2.6 billion increase on border security, which includes $1.6 billion to be used toward constructing the border wall.