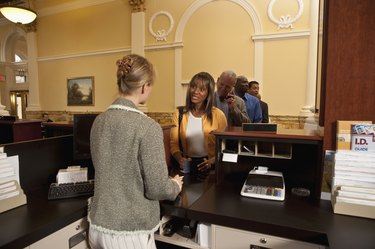 Adding a family member to your bank account is a simple transaction. The exact procedure for adding a new person to your account depends on your bank, but the process is similar between institutions. Although your bank may allow you to add a family member to your account online, it is quicker to physically go to your bank. Your family member will need to proper identification to the bank and this gets processed faster in person.
Step 1
Confirm with your family member that he does not have an outstanding debt with the bank. In this case, your application to add this family member would be denied.
Step 2
Call your bank's customer hotline and ask about the document requirements to add a family member to your account.
Step 3
Visit your bank with the family member you want on the account. Ask to speak to a representative about adding a new person to your bank account.
Step 4
Present your family member's photo identification and Social Security card to the bank representative. The photo identification should be a driver's license or state identification.
Step 5
Complete your bank's joint account paperwork per the instruction of the representative.
Things You'll Need
Photo identification

Social Security card