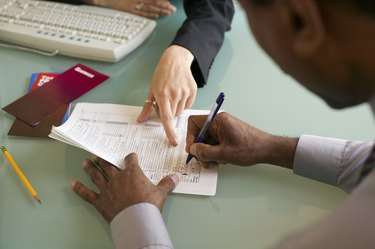 According to the Internal Revenue Service, a refund anticipation loan, or an ARL, is a loan taken out by a consumer from a lender based on the consumer's estimated tax refund. If you are suddenly faced with unexpected expenses and cannot wait for your tax refund to arrive, an ARL is an option to consider. Borrowing on your tax refund can have a number of consequences, however, including hefty fees and high interest rates.
Step 1
Call tax preparers in your area and express your interest in applying for a refund anticipation loan. Ask each preparer exactly what the fees are that they charge and what interest rate is associated with the loan. Compare the fees and interest rates of each potential lender and choose to apply through the lender with the most competitive rate. Be aware that federal law does not allow a lender to base fees on a percentage of the refund amount or use the refund amount to calculate the fees. All lenders must have standard fees and interest percentages regardless of the refund amount, according to the IRS.
Step 2
Meet with the tax preparer you have chosen to serve as your lender for your refund anticipation loan. Have the preparer file your taxes and calculate your anticipated refund. This amount will be the total for your loan. The preparer should then draft a contract that legally binds you to repaying the loan plus all fees and interest in full by a specific date. The contract should also include the method in which the loan will be issued to you. Usually you will be able to choose between receiving a paper check or having the loan amount deposited into your bank account via direct deposit.
Step 3
Look over the contract and ask as many questions as you need to before signing. Make sure you are fully aware of what terms you are agreeing to before you sign the contract. Once you are comfortable with the terms of the contract, sign it.
Step 4
Collect the money from your refund anticipation loan as agreed upon in the contract you signed with your lender.
Step 5
Repay the loan in full by the date agreed upon in the contract, including all applicable interest and fees.
Warning
Refund anticipation loans include application fees, electronic filing fees, fees to cash the loan check and often extremely high interest rates. According to the Wisconsin Department of Revenue, consumers should be prepared to spend roughly 10 percent of their entire refund check just on the fees and taxes associated with the loan.
The Office of Consumer Affairs and Business Regulation states that most consumers who file their tax return electronically receive their refund within 10 days of filing. It may be more cost effective to wait 10 days for your refund then to take out a refund anticipation loan.
If your tax return is denied or less than expected, you are still required to repay the loan in full. You may end up in more debt as a result of taking out a refund anticipation loan if the funds are not available as you expected them to be.
Things You'll Need
Tax forms

Identification card