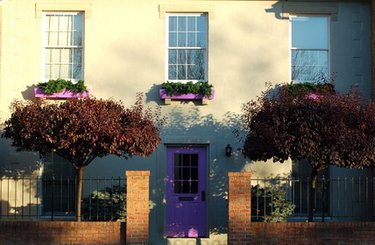 A townhouse is defined by its type of ownership and not by its type of construction. Townhouse owners own the individual unit and may or may not own an interest in the development's common areas such as swimming pool and recreation area. Homeowners insurance is as important for townhouse owners as it is for any other homeowner.
Protection of Assets
Homeowners insurance provides protection for your assets. It can cover the structure of your dwelling and other structures on your property in the event of a covered peril such as a fire. It can cover your belongings, called personal property, in the event of loss from a covered peril. It also provides coverage in the event you have personal legal responsibility, called liability.
Requirements of Your Lender
Mortgage lenders require you to have homeowners insurance as long as you have a mortgage against your townhouse. If you do not provide insurance or you let your homeowner's insurance lapse, the financial institution that holds your mortgage will likely be able to order insurance for you and have you charged for it. The coverage the lender arranges will probably have two disadvantages for you. The cost of it, called the premium, would probably be higher than the kind you would purchase on your own. The coverage would likely be limited to structural damage only to simply cover the lender's potential losses. Comparing the scope, limits and cost of homeowners insurance and arranging your own will likely give you a better value.
Coverages Similar to Detached Homes
The homeowners insurance you purchase for a house or a townhouse usually comes in a package. Dwelling insurance pays for damage to structures and includes installed systems. Other structures coverage pays for structures such as detached garages, sheds and fences. Personal property coverage insures your possessions such as appliances, furnishings and electronics. Loss of use coverage helps offset the cost of living if your home cannot be occupied due to a covered peril. If guests or visitors bring suit against you for their injuries or their property loss and you are determined to be liable, personal liability coverage helps save you from having to pay potentially huge sums of money. Another aspect of liability insurance is known as medical payments insurance. It pays for medical bills associated with a visitor or guest being injured on your property.
Townhouse Coverages
A townhouse development is one that has been legally subdivided, with each townhouse owner owning a specific housing unit, usually with an entrance all its own. Often, townhouses are insured through an association master policy. In this way, townhouses are similar to condos, since they are likely to be connected via shared walls and may share or have adjoining roof lines. Townhouses can also differ from condos in that the owner may own the land or lot along with the townhouse and is adjacent landscaping and decks.
If the townhouse is covered with an association master insurance policy, the structures and common areas are almost certainly covered and liability may be covered as well. The owner should have access to the master policy to see where gaps may exits that he can fill in with his own liability and/or personal property insurance.